Top Executive Face-to-Face Talk
Two top executive hold a conversation about Ryohin Keikaku's CSR and the future of society.
Guest:Takashi Kiuchi/Chairman of E-Square Inc
Takashi Kiuchi, Chairman of E-Square Inc., which works with corporate support and personnel training to build sustainable society, and MUJI President Masaaki Kanai talked together about CSR at MUJI and the future of society.
Feelings about MUJI stores
Kiuchi:

I have been very well-acquainted with Hinoki-cho Park in Minato-ku, which is close to my home, for a very long time, and even now I frequently walk through that park. I thought about how MUJI Tokyo Midtown might look from there, and when I actually gazed in that direction from the park I was left with an extremely understated impression. I understand the ideology behind MUJI having a solid foundation and not deviating from its principles, but it made me feel like it was slightly wasteful...

Kanai:

MUJI Tokyo Midtown is a store that keeps alive the original appearance of MUJI. It's not about communicating through individual products: it's about communicating a concept through the whole store having an atmosphere that equates with space. Currently, standard stores are communicating information through photographs and text, such as with posters and POP, etc. However, because these have become prevalent, the fact is that they've come to appear as noise. In Hong Kong, for example, we have opened nine stores, but with a high brand, showing and level, and without adding the POP, etc. that we see in Japan. I think that the ability of stores to communicate is fraught with difficulties.

Kiuchi:

MUJI is "quiet", isn't it. For instance, in other companies' stores there is sound, color and energy, it feels like MUJI is deliberately formal.

Kanai:

Does it feel as though it has no vibrancy?

Kiuchi:

It's not so much that it lacks vibrancy - I think it's more that its self-promotion is weak. Other companies have actually stated in their stores, "we are keeping our stores clean", and there's no problem with that if the stores really are clean. Also, although you won't find this in any management book, I believe that it's important for a company to have "employees in a good mood". Performance will not improve at companies whose employees are virtually silent, and it will also be difficult to achieve good results if that is the case.

Kanai:

That the mood on-site is good is also a requirement for MUJI. A few minutes ago you said you felt that MUJI is "quiet", but I assume that's because the culture of shy Japanese people is inside the company. Also factoring in the brand concept, there is a rooted sense of being uncomfortable about the notion of "forcing a sale". Actually, the first MUJI store, in Aoyama, was created with "economizing" as its main point. There is an antithesis to society's tendency to try to "sell, sell, sell", and at first there was even the concept of not issuing welcomes and receiving customers in that way.

Kiuchi:

I understand. That's MUJI's concept of wanting to attract people into its stores through factors other than desire, isn't it. But it that's the case, perhaps you should communicate in a stronger, more tangible way. Something to make people want to visit MUJI once a month... For example, the greatest problem concerning the natural environment is that everyone is indifferent. But even so, there must be something to appeal to the curiosity of each individual. Right now, I am thinking that my teacher is nature. Humans are a part of nature, so the laws of nature must be followed. And yet, come to think of it, we don't know what those rules are. For instance, I think it would be wonderful if MUJI were to put out one message concerning nature every month - something that customers who have been in the store will understand. If you handed over cards bearing messages and there were 12 different cards throughout the year, people would look forward to what might be coming the following month.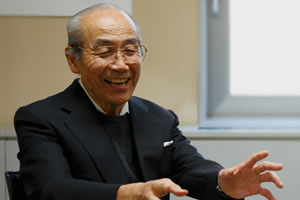 Environmental problems are human problems
Kiuchi:

The term "big earth" is part of MUJI's vision, but conversely I feel that we're heading into an era in which countries' respective idiosyncrasies will be displayed. What do you think about this, Kanai-san?

Kanai:

In relation to globalization, I believe that innovation stems from three things: "regions and their traditional cultures", "whether or not we are really aware of the details of daily life", and "a critical spirit and fair conduct". Rather than people in Asia studying and imitating Western design, I think there are things that can only be created by Japanese people, only created by Chinese people, and so on. The "big earth" presented in the company's vision means thinking after taking an extensive view of the whole earth - this is different from simple globalization. It shows the scale of the idea.

Kiuchi:

We often talk about being ecological, but the real problem is the earth as a concept. Where we live is no more than a place like the thin skin of the earth. The earth includes the earth core and the atmosphere, and if only the skin is broken the earth itself will be unperturbed, but for humanity - including animals and plants - this is a matter of life or death. It might help to think of it as the thin skin of a fruit. The fruit cannot be represented by its thin skin alone. Being "kind to the planet" is absurd.

Kanai:

I've been thinking the same thing for some time - people are always going on about environmental problems but, as you say, these are really human problems. Even though in Japan the declining birth rate is becoming a problem, on a global scale the population continues to increase. As far as the thin skin of the earth is concerned, this is having a considerable impact. When we discussed this matter in the company in 2002, the world's population was about 6.3 billion and yet only 800 million were people living in the same way as us. Now, the world's population has risen to a little more than 6.8 billion people, and it is said that the number of people who enjoy the same level of life as we do has increased to approximately 2 billion people. It's also reported that a further 2 billion are waiting in the wings. If the number of consumers hits 4 billion, the earth's thin skin will be blown off. When we had this discussion, we thought again about the "simplicity" that had been prized by the late creator Ikko Tanaka, who built the MUJI concept. That is, the way of thinking that says "this will suffice". Simple is good. Resources should be used as little as possible. It's not a matter of being resigned to something, but rather of wanting to make things that "will suffice" while being full of self-confidence. Since ancient times, Japanese people have specialized in holding back personally for the sake of their surroundings. This is the "this will suffice" concept. However, these days everyone is saying "this is good". Everyone is making self-assertions, and that thin skin will melt away if these assertions continue at this pace. That's why it's necessary to content with whatever suffices. You were saying about MUJI being quiet, but this kind of thing is there in the background. But I'm worried that this way of thinking might not be put across in a skilful way...
Society will be enhanced if daily life becomes beautiful
Kiuchi:

I think that nature is a teacher. Since last spring, I have had 5,000 bees sent from Iwate prefecture, which I now look after. Out home is right in the center of the city, between Tokyo Tower and Roppongi, but the bees' number has increased to 35,000 at present. I feel a sense of amazement when I look at their lives. Females account for 90% of the bees that are born. Female bees carry out various roles as time passes, from worker bees to gatekeepers, and they finish their lives having done only what was worthwhile. Bees have been continuing to make sure of this order since five million years ago. Watching bees makes it clear that nature is self-supporting. For example, when pollen is collected from cherry trees their color changes and they put out a sign that says, "bees have already been here". A fuzz grows in the petals of cherry blossom so that the bees don't fall. I feel that nature is amazing, and that it is only humans that do not evolve. How can we shift the attention of indifferent people to these wonders of nature?

Kanai:

I think that society will be enhanced if daily life becomes beautiful. For example, we want to use organic cotton and we are also introducing Fair Trade. We're not there yet, but we are trying to communicate this. However, I think the general trend is for people to favor cheap products. Of course, considering Japan's economy, maybe this can't be helped...

Kiuchi:

It's an awkward situation, isn't it. About 18 months ago, Goro Yoshizawa, who is famous for his comparative study of civilization, stated that the chances of humans being lively in the 22nd Century are 50-50. I have seven grandchildren, but it made me think that it will be difficult for these children to live to my age. Many people are really not getting this message.

Kanai:

Some scholars say that the current situation is bad, but others come out and claim that things are OK. I don't know which group to believe. However, humans are also a type of animal, and I think that each animal must think for itself as to what is correct.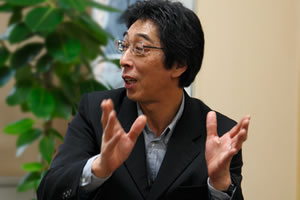 Looking to the future of society
Kiuchi:

I really appreciate the expression "to be satisfied with one's lot in life"... Don't just be selfish, but think about other people as well. "Altruism" has recently entered the vernacular, but I think it will be difficult to communicate that term. Someone has to start talking in order to change the tendencies of society, and in that regard I would really like to see Ryohin Keikaku make the effort to produce results. For example, at zoos in Sweden there are only Swedish animals, so if you brought Swedish children over to Japan's Ueno Zoo they would cry out of pity for the animals there. This is one of Sweden's points of principle, that it's normal for giraffes and monkeys not to be housed in zoos. Even in Japan, I think that young people will talk together and want to communicate this to their own children.

Kanai:

What I feel in Europe is that various individual stores are able to exist together. Many people there appreciate sensitivity. Japan is rapidly heading towards becoming an oligopoly, and prices are falling.

Kiuchi:

It's tragic that there is no optimism in society. There needs to be a road map drawn so that people can understand the notion of "this will suffice". I'm not returning to the subject of bees, but there are many things to be learned from animals. I have thought that I would like to popularize the word "life-size". Peter Pedersen, the Chief Executive of our company, in his book The Fifth Competitive Axis raised the idea of humans from now moving from being Homo sapiens/rational people to Homo sociens/social people. This suggests that society, which has to date used nothing but intelligence and reason to make its decisions, will become a society that considers the other party and values relationships. I hope that more people will come to respond to that kind of thinking.

Kanai:

I think that economically speaking Japan is in a grave state. That is why there must be growth, and I think that if people become aware that they can become a little richer in term of ways of living, then that could also create domestic demand. Society calls affluent living "pleasant life", and Ryohin Keikaku through MUJI will continue to propose ways of enjoying "pleasant life".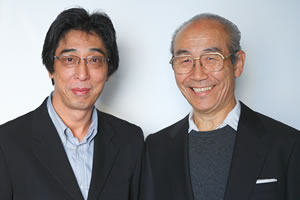 *Job title, etc. is a thing of the time talk