As a company with the aim of creating a Pleasant Life (harmony with our neighbours and our planet) we consider that the fulfilment of social responsibility in both our business operations and provision of information is an important factor as well as in those matters concerning products and services. As of 2011, we are addressing the following 40 points as steps toward the creation of a Pleasant Life.

Initiatives for product development
During product development, we always strive to reduce waste from the following three viewpoints:
Problem solving through design
Products with standardized sizes and modules help respond to changes in lifestyle and purpose, and offer good long-term service.

Example:steel unit shelves, stacking shelves, cleaning systems, mix & match pajamas, etc.

Long-life products with replaceable parts

Example: major pen range with refills,cleaning systems (removable, washable, and replaceable parts)
Examination of materials and processes
To ensure the efficient use of resources we incorporate recycled and discarded materials into our products, e.g. remainder fabrics and threads.

Example 1. Drop cotton fiber series: Cotton combing fibers are incorporated in fabrics and innerwear.
Example 2. Corrugated cardboard: Material known as the number one for recycling. It is used for storage products and speakers, etc.
Example 3. Hard pulp: Material with 45 to 50% reused wastepaper content. It is incorporated in storage products.܂

Products made after reviewing any unnecessary processes to reduce waste

Example: Puffed molded sofa: Urethane is foamed in a sofa mold to reduce waste.
Simplification of packaging
We aim to sell all our products with the absolute minimum of packaging. We continually make efforts to reduce packaging for any item that usually requires to be packed.

Example: Cord or paper strip packaging for fabrics and pajamas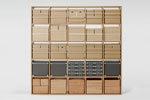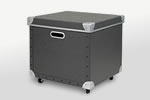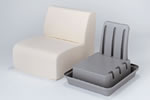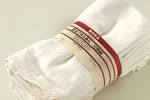 Other initiatives
After sales service and parts
To ensure our customers can use our products for as long as possible, we sell spare parts; mainly replaceable parts.

Example: hot-water bottle caps, gaskets of acrylic cold drinks jug, inner cover of mattress with legs
Reuse of corrugated cardboard boxes used for deliveries to stores
In 2009, we introduced a system to about 200 of our stores – mainly under direct management – to reuse some of the corrugated cardboard boxes used for deliveries to stores; this represents about 60% of our total number of stores, and through this initiative we achieved a reduction of around 59,000 boxes a year.
Recycling of textile goods
From June to December 2010 we conducted four campaigns, and collected about 10 tons of goods; by the end of January 2011, about 40% of the collection had been processed into about 1,000 liters of ethanol at a reclamation plant.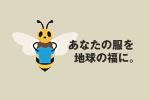 Recycling of polyvinyl chloride
Used diary covers made from polyvinyl chloride are collected from customers at stores and recycled.
Waste reduction at Café&Meal MUJI
In Café MUJI, Meal MUJI, and Café&Meal MUJI, which are all MUJI restaurant businesses, we do not use disposable chopsticks, and widely distribute coffee grinds (an odor eater) free of charge; through these activities we are striving to reduce waste.
Well-built houses for a long life
MUJI.net Co., Ltd. designs MUJI houses, and since its establishment, the company has been devoted to the building of houses with the concept of "A house built to last, but easy to change." In June 2010, with the enforcement of the Act for Promoting the Spread of Long-life Quality Housing, MUJI standard spec houses came to be certified as "long-term quality housing."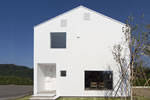 Reduction of paper use in offices
n June 2010 the Ryohin Keikaku Head Office started using combined OA equipment and changed to a check and photocopy system for output data, which within six months reduced OA paper consumption by 7.5%.
Promoting paperless in offices
The Ryohin Keikaku Head Office has installed projectors and screens in main meeting rooms to promote paperless.

Checking the origin of wood used for furniture products
Concerning the wood used for furniture products, we check the origin of each material, and make every effort not to use wood from illegal logging.
Checking the origin of wood for paper goods
We mainly use recycled paper and planted trees for paper goods, check the origin and make every effort not to use wood from illegal logging.
Making full use of organic cotton
We are striving to increase the use of organic cotton. For some of the bed and bedding cover and towel products organic cotton is used for 5% of cotton content.
Initiatives at MUJI campsites
Ryohin Keikaku operates three campsites at Tsunan Town in Niigata Prefecture, Takayama City in Gifu Prefecture, and Tumagoi Village in Gunma Prefecture, where we manage a total of 231 hectares of forests around the campsites.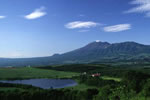 Supporting Akagi Nature Park
We are supporting conservation of the environment of Akagi Nature Park located at the southwest foot of Mr. Akagi in Gunma Prefecture. This man-made park is a secondary growth forest of 120 hectares. Since its establishment in 1987, many species of insects, animals and rare plants have been found, and the confirmed numbers of animal and plant species have reached 1,810 insects, 662 plants, 77 birds and 15 mammals.
Akagi Nature Park http://akagishizenen.jp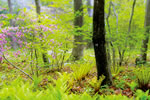 Ryohin Standards
Concerning product safety we have established our own Ryohin Standards; they are stricter than current laws and regulations, and basically we do not sell any product that fails to meet our rigorous standards.
Materials prohibited or subject to restricted use
We have established standards concerning the prohibition or restricted use of certain materials, and basically we do not sell any product that fails to meet them.

| | |
| --- | --- |
| Polyvinyl chloride resin | We do not use phthalate esters in plastic materials for products that children use or directly come into contact with the mouth. |
| Formaldehyde | Limited to JAS/JIS standard level |
| Forest resources | We do not use wood material from illegal logging. |
| Sorbic acid, Stevia | We do not use them. |

Related page Materials prohibited or subject to restricted use
Food safety
We are developing food products in which chemical additives are used as little as possible.
Introduction of alternative material to fluorine resins
From 2005 to 2006 we announced our intention to stop using fluorine resin in cooking pans, because prolonged heating may generate toxic gas. However, in 2007 we resumed using fluorine resin due to the new pans showing significantly poor prevention of burning compared to fluorine resin coated pans. We announced the details on our website and provided labels clearly stating the use of fluorine resin in the heating section of some products; at the same time, we continued research for a substitute material and switched from fluorine resin coating to zirconia materials in our cooking pans. Consequently from spring of 2011, we will use zirconia instead of fluorine, in five items, e.g. frying pans, stir-fry pans, and single-handed pans.

Making use of customer opinions with Your Voice System
We make good use of our Your Voice System; we receive customer opinions via stores, telephone or e-mail, and annually we analyze about 100,000 messages, and incorporate ideas into our products and services.
Opinions and the Customer Viewpoint Sheet
In the Customer Viewpoint Sheet store staff members note their observations concerning customer attitudes and also record opinions given directly by customers in our stores. Headquarters looks through this information every day, and incorporates the feedback into products and services.
The Code of Conduct for Business Partners
To ensure our outsourced manufacturing business partners understand and implement Ryohin Keikaku corporate standards, we include "Ryohin Keikaku Environment, Labor and Safety Management" in a Product Manufacturing Outsourcing Basic Agreement. We check the implementation status using a questionnaire format once a year, and explain the details at business partner meetings held twice a year.
Promoting the Fairtrade Label
We gave our approval to the concept of Fairtrade Label products, an initiative which was begun to support farm workers in developing countries, and now works internationally to promote the fair trade of many commodities. We are making positive efforts to market such products. Currently MUJI sells Fairtrade Label regular coffee, and black tea bags; Flower MUJI is promoting roses; and Café MUJI, Meal MUJI, and Café&Meal MUJI is serving fairtrade coffee.
Initiatives supporting producers
In addition to Fairtrade, we are implementing initiatives to support producers.

| | |
| --- | --- |
| MUJI | A bundle of 10 pairs of bamboo chopsticks |
| Café&Meal business | Promoting use of domestic foodstuffs, e.g. Ryukyu black tea, large lemons from Hiroshima Prefecture |
| Flower MUJI | Supporting contract farmers growing Mother's day gift carnations, and cut flowers |
Workshops & community
We hold workshops to offer an opportunity for our customers from local communities and our store staff to come together. In FY2010 we held the "Cardboard Child Chair" workshop about 20 times including Hong Kong. In addition, from 2010 we are cooperating and holding workshops with the "Toshima Monozukuri Messe," (manufacturing trade fair) hosted by Toshima ward, where our Head Office is located.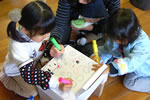 Cleaning the Head Office environs
From February 2008, at the end of every month Head Office employees have been volunteering to clean the area around the Head Office. In FY2010 a total of 150 employees participated in this activity.
Employee volunteers in Kids Summer Camps
Every year a Kids Summer Camp is held at the MUJI Tsunan Campsite, in which the Head Office employees participate as volunteers and help in the preparation of the children's meals, etc. This in-house volunteer activity started in 2008 and in 2010, 10 employees were selected by lottery to take part.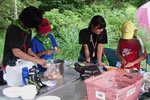 Supporting the Pink Ribbon Campaign
Every year we contribute to the Pink Ribbon Campaign, which raises awareness for the early detection of breast cancer, and from March through August we donate a percentage of the sales of women's innerwear items. Also in March every year, our corporate website provides information concerning breast cancer.

Supporting NGOs and NPOs though our products and services
To support NGOs (Non-Governmental Organizations) and NPOs (Non-Profit Organizations) that are conducting socially meaningful activities, we are developing products linked to donations. By linking donations to products and services, one of the purposes of this initiative is to encourage both inside and outside the company, a deeper understanding and awareness of the social contribution made by such organizations. Also, we help publicize and support the work of those organizations receiving the donations by including information about their activities on our corporate website.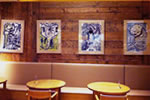 | Term | Product | Donated organization |
| --- | --- | --- |
| May | "My bag" featuring pictures drawn by children | May "My bag" featuring pictures drawn by children NPO Kids Earth Fund |
| March to August | Camisole with bra cups | March to August Camisole with bra cups Japan Cancer Society |
| January to February | Handmade kits | Save the Children Japan |
| All year | Café MUJI, Meal MUJI, and Café&Meal MUJI exhibit children's pictures loaned from the NPO and sell postcards. | NPO Kids Earth Fund |
Sales of fund-raising tickets̔̔
The MUJI Fund-Raising Ticket was inspired by the old-style collecting box seen on street corners in the past; it is an online system that gives information about a variety of organizations, funds, projects, etc., and easily allows ordinary people to fully understand their activities and make even the smallest donation. On February 24, 2011 this system started on the MUJI netstore. We support organizations engaging in social activities by providing a "structure" for provision of information and the transaction infrastructure for small-sum donations.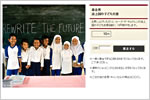 Laboratory for Discerning Living
Centered on our web page "Laboratory for Discerning Living" we are conducting two-way exchange of information with all our different communities (customers, growers, manufacturers, etc.).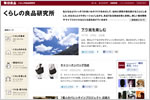 Women's activities
Since its foundation, Ryohin Keikaku has always positively supported women reaching their full potential. As of the end of January 2011, the percentage of women in manager or higher positions is 17.9%; 33.0% if store managers are included, and in addition, the percentage of women with children, in manager or higher positions is 19%.
Employment of people with disabilities
We are actively promoting employment of disabled people, and in October 2010 received a commendation as an excellent company promoting employment of the disabled, by The Association of Employment Development for Citizens, Tokyo.
Ranked 25th in Great Places to Work®
In its 5th survey held in 2011, the Great Places to Work® Institute Japan, ranked Ryohin Keikaku 25th out of 121 companies. The Institute established in 2007, examines and analyzes companies in accordance with global standards applied in over 40 countries; each company is assessed and ranked against companies in the same country and the results are publicized nationwide in influential media.


Implemented initiatives
Future House Project
MUJI.net Co., Ltd. designs MUJI houses, and in November 2010 in collaboration with Tohoku University of Art & Design, the company launched a "Future House Project" to study the thermal performance standards of buildings and create designs to utilize natural energy so that future Japanese houses will be friendlier to the global environment and more comfortable for their inhabitants.
Leaving work at the scheduled time
We encourage efficient work practices to eliminate overtime at the end of the day and thoroughly promote leaving work at the scheduled time. At present over 90% of employees leave the office at the scheduled time.
Energy saving activity participated in by all our staff
We have established energy control standards, and each of our employees participates in energy saving in our offices, distribution centers and stores.
Delivery of polypropylene storage products
Polypropylene storage is a MUJI signature product, and we sell over 1.9 million units annually; whenever possible to save on carbon miles we deliver to the customer direct from the factory, and we have also found our damage in transit figures have dropped.
Planned initiatives
Introduction of energy-saving lighting in the Head Office̓
In FY2011, the Head Office plans to introduce energy-saving lighting with a reduction power consumption target of about 40% for the year.
Introduction of energy-saving lighting in stores
We are introducing energy-saving lighting in newly opened stores. In FY2010, energy-saving lighting was installed in 13% of our new stores, and our target for 2012 is to have energy-saving lighting in over 50% of new stores.