A New Communication Platform Linking Those Who Identify with MUJI
"I am MUJI." Photo Exhibit to Open in Tokyo and Milan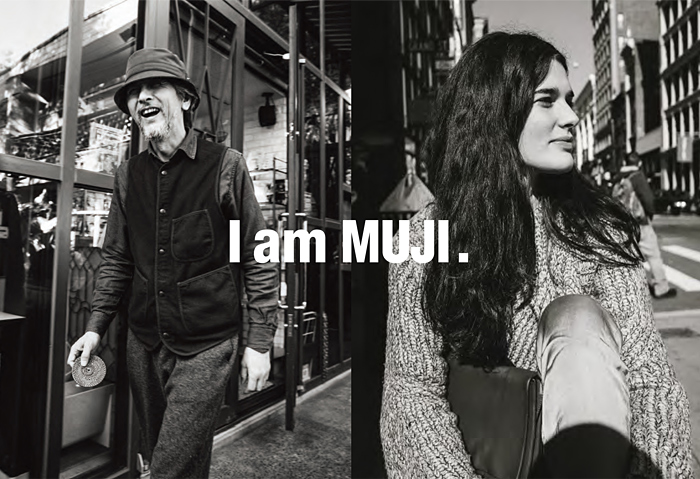 Ryohin Keikaku Co., Ltd. (Tokyo, Japan; Satoru Matsuzaki, president and representative director) has announced that the "I am MUJI." photo exhibit will open in April at MUJI stores in Milan and Tokyo. The photo exhibit captures people who find their own styles, free from the influence of labels. In conjunction with the exhibit, MUJI will begin publishing photos from the exhibit at a website and via social media such as Instagram, starting April 15, 2016.
"I am MUJI." Photo Exhibit - Capturing People Who Find Their Own Styles
MUJI has expanded its stores to 26 countries and regions worldwide.
Facing globalization, borderless communication and too much information in the world today, it is easy for us to lose track of how we want to live. While at the same time, self-expression is still reflected in the choices of individuals based on their own sense and values.
There is now a growing community of people who choose MUJI, because they can identify with this feeling. MUJI is for those who want to find their own styles. Just as nature had intended, free from the influence of labels.
"I am MUJI." is a photo exhibit that captures people who find their own styles, free from the influence of labels.
MUJI commissioned New York-based photographer JIMA to shoot black-and-white photos of people on the streets of New York who capture the essence of "I am MUJI." Photographed just as they were, none of the subjects is wearing MUJI clothing.
Aiming to convey the message that MUJI wants to be the clothing choice for people like the subjects of these photos, the photo exhibit will open simultaneously in the fashion cities of Tokyo and Milan. The venues are the MUJI Atre Ebisu store in Tokyo, which is reopening this spring after a facelift, and the MUJI Corso Buenos Aires flagship store in Milan. The photo exhibit will travel to flagship stores worldwide, including the New York and Ikebukuro Seibu stores, and will also be published online.
MUJI will continue to seek and share photos of people who capture the essence of "I am MUJI."
Profile of JIMA
Born in Shizuoka Prefecture and moved to the United States in 1998. In addition to working as a stills photographer for feature films such as The Place Beyond the Pines, Birdman, and St. Vincent, he has shot image photos for fashion brands including Engineered Garments and Arc'teryx Veilance, and worked on numerous fashion shoots for magazines. In 2013, he published the photo book Loiter, which went on to become a series. The ninth and latest iteration is entitled "I like this city."
Information about the Photo Exhibit
Milan :

MUJI Corso Buenos Aires, April 8 (Friday) to May 1 (Sunday)

Tokyo :

MUJI Atre Ebisu, April 15 (Friday) to May 5 (Thursday)
Introduction to "I am MUJI." by New York-Based Writer Yumiko Sakuma.
I had run into JIMA in the middle of a busy New York cross street when he was photographing people. He spots street characters from far away, and finds a moment to trigger the shutter in that instant encounter. Most people probably won't even see these people, let alone photograph them. His subjects are neither famous nor so called style icons, but in JIMA's photos, they do have an unweavering sense of presence and style. When asked if there's a common thread in subjects he's prompted to photograph, he said, "Those who live in their own time, those who act on their own." People who are standing on their own two feet, people who confront something alone, people who add to the landscape rather than blend into it. Often times, there's nothing special about what they wear, but their intention and statement makes up their style. Because of who they are, they own their style rather than merely wearing something. And that is not something you can copy. You can't buy style. You won't have your own style unless you know who you are. The first step to style is to face who you are.