Laboratory for MUJI Basic Apparel
Debut of the New MUJI Labo Line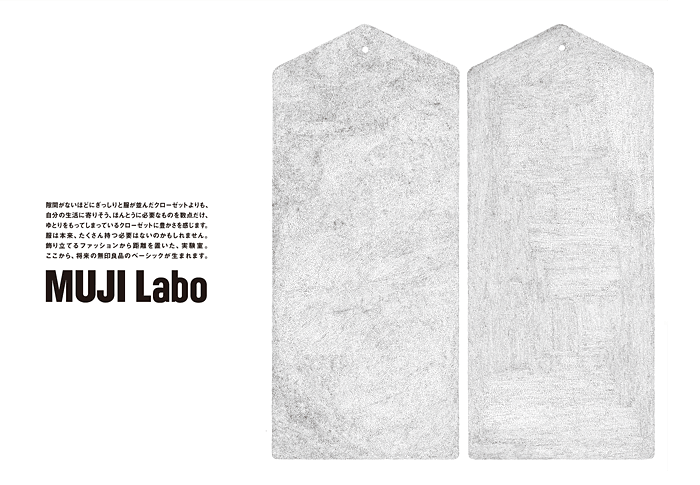 Ryohin Keikaku Co., Ltd. (Tokyo; Satoru Matsuzaki, President & Representative Director) has announced the introduction of a new MUJI Labo apparel line. This line will feature original and inspired approaches to basic apparel. To be launched beginning spring/summer 2017, the new MUJI Labo line will debut new ideas in product configurations and fabrics.
MUJI Labo apparel will be available at MUJI stores throughout Japan (26 stores) and overseas flagship stores (15 stores in six countries). MUJI Labo began as a special project in 2005 to explore basic concepts in apparel from a free and creative approach. What MUJI Labo learns through product development eventually becomes standard apparel in MUJI stores, reflecting practical design and conscientious materials (organic cotton, etc.) that consider both the producer and the environment.
This season marks the first major redesign since the 2012 spring/summer line. MUJI has asked Mr. Daisuke Obana and Mr. Taro Horiuchi to participate as design directors for the men's wear and women's wear lines, respectively. Each category in the men's and women's wear lines will be developed along common themes, reflecting a variety of standpoints. The goal is to create the next generation of basics, while eschewing unnecessary fashion embellishments. Every month between January and June 2017, MUJI will release new, fresh designs in apparel based on a selected product category. Over the course of six months, customers will be able to purchase an entire set of wardrobe basics.
Look for exciting developments from the new MUJI Labo line in the future.
January...Coats and DenimFebruary...SweatsMarch...Shirts and Chino Trousers
April...T-Shirts and Polo ShirtsMay...Shirts and Short TrousersJune...Dresses
[Representative Products]
NYLON CHESTER COAT (MEN'S)


¥17,900 (tax included; scheduled on sale January 2017)

JAPANESE FABRIC STRETCH DENIM TAPERED (MEN'S/LADIES')


¥6,990 (tax included; scheduled on sale January 2017)

DOUBLE WOVEN COTTON TRENCH COAT (LADIES')


¥19,900 (tax included; scheduled on sale January 2017)

NON-LACE SNEAKERS (MEN'S/LADIES')


¥3,990 (tax included; scheduled on sale January 2017)

COTTON MIX SHORT SLEEVE T-SHIRT (MEN'S)


¥2,990 (tax included; scheduled on sale April 2017)

COTTON INTERLOCK CREW NECK T-SHIRT (LADIES')


¥2,990 (tax included; scheduled on sale April 2017)
For more information, please contact:
Ryohin Keikaku Co., Ltd.
Corporate Planning Office
Tel. +81-3-3989-4410
https://www.muji.net/service-bin/feedback_eng03/formdecode.php