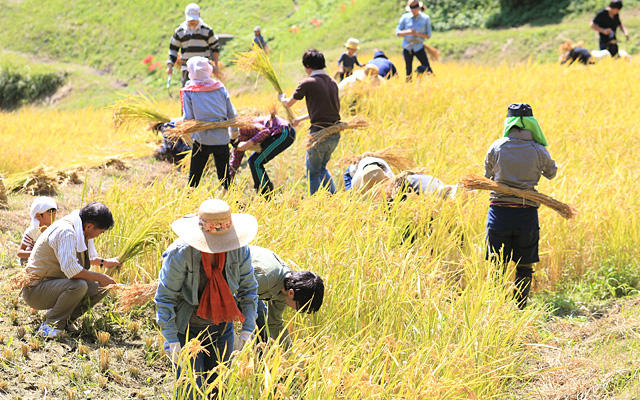 Kamogawa Satoyama Trust
In the "Satoyama" region (an area of farmland and mountain foothills) in Kamogawa, Chiba Prefecture, terraced rice fields are irrigated entirely with rainwater. This type of field is increasingly difficult to maintain as the local population ages. With the help of visitors from urban areas, we hope to preserve for and pass down future generations such kind of environment, tradition, and life in harmony with nature. MUJI Laboratory for Living and the non-profit organization Uzu co-sponsor hands-on farming events since May 2014, where participants help plant, weed and harvest in the rice fields.
Since 2016 events are also held in vegetable fields, fruit orchards, forests, and charcoal huts. Such kind of activities to preserve time and space of "Satoyama" as shared heritage of the society are part of our Kamogawa Satoyama Trust.