MUJI HOTEL BEIJING to Open on 30 June 2018
together with MUJI Store, MUJI Diner and Café&Meal MUJI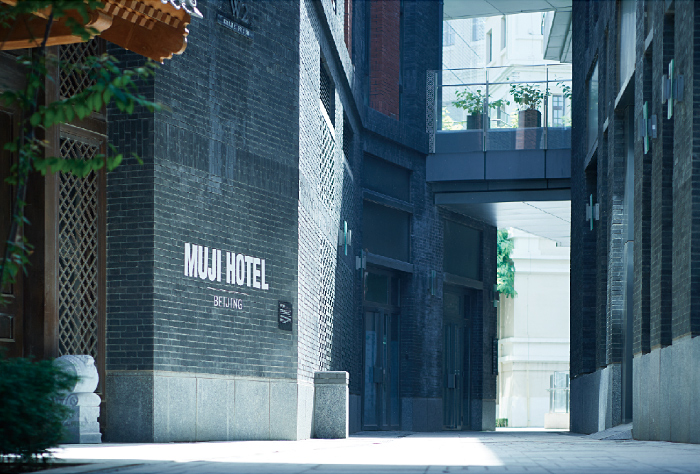 Ryohin Keikaku Co., Ltd. (Tokyo; Satoru Matsuzaki, President & Representative Director) has announced that it will open a hotel and a store in Beijing, China on 30 June 2018. Room reservation has started online* with immediate effect.
*Official Website Address: https://hotel.muji.com/en/
MUJI HOTEL BEIJING
MUJI HOTEL BEIJING gives a wonderful view of Tiananmen Square. This corner of central Beijing retains the atmosphere of China's spectacular court culture. In addition to the World Heritage sites, it has parks where you can join the locals simply enjoying everyday life. There are also narrow hutong alleys that provide a glimpse of the old Beijing lifestyle in traditional siheyuan courtyards. Some of the shoes and tea shops date back to the Qing dynasty and traditional sellers of steamed buns are shrouded in clouds of steam. Today, they stand side-by-side with intimate, modern-style cafes specializing in pour-over coffee. Beijing is constantly changing. To savour its attractions, the guests may call by the hotel's BOOK LOUNGE to learn more or rent a bicycle and explore. This is a comfortable place to stay and an ideal base for the visit to Beijing.
Details of the Hotel
[Guest rooms]
All trips, whether for business, sightseeing or long-term stays, are supported first and foremost by quality sleep. Our guest rooms incorporate natural materials people have lived with since ancient times, such as diatomaceous earth, linen, cotton, and stone, bringing out their natural functionality and textures. Materials and lighting are carefully selected to promote a good night's sleep, with excessive decorations and unnecessary complexity eliminated. Guest rooms are available in six types. Same items that we sell at the MUJI store below the hotel are used in the room wherever possible.
| Room type | Area (m2) | No. | Bed | Room Charge (RMB) |
| --- | --- | --- | --- | --- |
| A | 22 | 3 | Double | 550 |
| B | 18~25 | 17 | Double | 700 |
| C | 20~34 | 5 | Double | 900 |
| D | 43~48 | 3 | Double | 1,300 |
| E | 42~56 | 13 | Double / Twin | 1,600 |
| F | 75 | 1 | Twin | 3,000 |
Check-in: 14:00
Check-out: 12:00
Standard amenities and fixtures: toothbrush / toothpaste / razor / shower cap / cotton balls / cotton swabs / shampoo / conditioner / body wash / hand soap / refrigerator / safe / electric kettle / hair dryer / wall-mounted CD player / Wi-Fi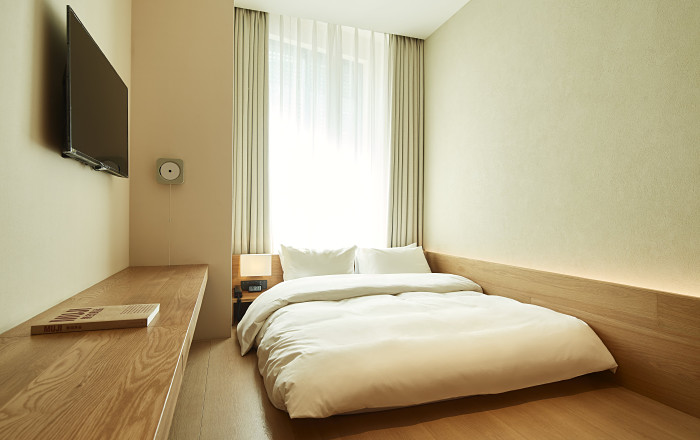 [Other facilities]
Café&Meal MUJI

Café&Meal MUJI aims to bring out the original, natural flavour of the ingredients. Our cooking strives for simplicity in order to make the most of the ingredients and highlight their natural delicious taste. Our fresh juice made with fruits and vegetables and deli items are also available for take-out.

Opening hours:
Breakfast 7:30-10:00 / Lunch 11:00-14:00 / Cafe 14:00-18:00 / Dinner 18:00-22:00 (L.O. 21:30)
Capacity: 70 seats
Location: Ground floor

MUJI Diner

Picture: MUJI Diner Shanghai Huaihai 755

MUJI Diner serves freshly prepared cuisine inspired by home cooking in East Asia and made with delicious and nutritious ingredients from around the world. You can relax and enjoy the time with a spectacular view of Tiananmen (the Gate of Heavenly Peace).

Opening hours:
Breakfast 7:30-10:00 / Lunch 11:00-14:00 / Dinner 17:00-22:00 (L.O. 21:30) / Bar 18:00-23:00 (L.O. 22:30)
Capacity: 82 seats
Location: 4th floor

BOOK LOUNGE

A choice selection of books on travel, culture, history, literature, essays, and photography are found, including many books about culture and attractions of Beijing. Seasonal events and exhibits featuring tips for sightseeing and simple, pleasant living are held at the big table nearby.

Open 24 hours
Location: Ground floor public area

Rental Bicycle

The hotel provides a free bicycle rental service to allow guests to broaden their activity and encounter more attractions in Beijing. (For hotel guests only)

Service hours: 9:00-18:00 (return before 22:00)
Fee: Free of charge
Location: Ground floor

Business centre

Business centre allows guests to concentrate on work or gather travel information. There are five individual spaces to work on computers, a conference room that seats six, and a printing service.

Opening hours: 8:00-23:00
Facility: Conference room* (for 6 people) *pre-booking required
Location: Ground floor

Utility room

To help make long-term stays more pleasant, we provide a utility room where guests can wash, dry, and iron their clothes. (For hotel guests only)

Open 24 hours
Facility: Fully automatic washing machine, drying machine, iron and ironing board
Location: 2nd floor
MUJI Beijing Fun
The MUJI store located on the first basement level sells travel essentials and everyday items for realizing a simple, pleasant life. Some of the items are the same ones used in the hotel guest rooms.
Opening hours: 10:00-22:00
Location: First basement level
Overview of the Hotel
Name:

MUJI HOTEL BEIJING

Location:

21-2 Lang Fang Tou Tiao, Meishi Road, Xicheng District, Beijing, P.R. China

Grand Opening:

30 June 2018

Reservation Start:

25 June 2018

Management Company:

UDS Hotel Management (Beijing) Co., Ltd.

Guest rooms:

Total 42

Floors:

1 - 4

Restaurants:

MUJI Diner: 82 Seats (4thFloor), Café&Meal MUJI: 70 Seats (ground floor)

Other facilities:

BOOK LOUNGE, business centre, utility room, parking lot for 515 cars (for total Beijing Fun location)

Official Website:

https://hotel.muji.com/en/
(available in Japanese, Chinese and English)
What is MUJI HOTEL?
The MUJI HOTEL has been designed to reflect an anti-gorgeous, anti-cheap concept. The goal is to offer great sleep at the right price, provide a space supporting both body and soul while away from home, and connect travellers to local communities. Travel has become part of our daily lives. It has evolved from the extraordinary to the ordinary, from something in which we participate to something we create. MUJI HOTEL provides an answer to this shift in demand. Cooperating with MUJI stores, the HOTEL seeks to provide a physical experience of the MUJI philosophy through the texture of the towels, the placement of outlets and light switches, menu and venue of the restaurant, and more.

The Shenzhen location opened on 18 January 2018. The Beijing location will follow on 30 June 2018. Another one in Ginza, Tokyo is scheduled in spring 2019.

For press inquiries, please send a message via Contact us portal.
PR Department, PR & ESG Division
RYOHIN KEIKAKU CO., LTD.
Tokyo, JAPAN