Contributing to Society through Our Business
Recycling
Being a company that develops and sells products, MUJI is also considering the future of its products as they fulfill their role and function. Some MUJI products that customers have loved for years are collected at our stores. On top of that, we aim to promote recycling and reusing initiatives that eliminate waste and burden by utilizing the wisdom of our predecessors.
MUJI, which aims to create a better relationship with nature, will continue to do its best to help recycle the earth's resources and reduce wastes.
Textile Recycling
The BRING Project (known as FUKU-FUKU Project) was launced in 2010 with the slogan of "Your Clothes Can Bring Good to the Earth." It is a joint corporate initiative that aims to achieve 100% recycling of clothing and textile materials. Ryohin Keikaku has been participating in the project since 2010 to make contributions to the formation of a recycling-oriented society.
If you have MUJI clothes, towels, fabric covers that you have used for years but can no longer be used due to stains or blemishes, or children's clothes that no longer fit, please bring them to a MUJI store at any time. The collected textile products will be recycled as raw materials for clothing. In addition, some of the collected products will be re-dyed and resold as ReMUJI items.
【Target Products】
All MUJI textile products (underwear and socks excluded)
Clothing
Towel
Bed sheets
Fabric covers
※Items to be collected are limited to those listed as Ryohin Keikaku Co., Ltd. in the laundry lable.
※Please wash it before bringing it to the store so that it can be recycled effectively.
※Products containing metal or rubber such as shoes and bags cannot be collected.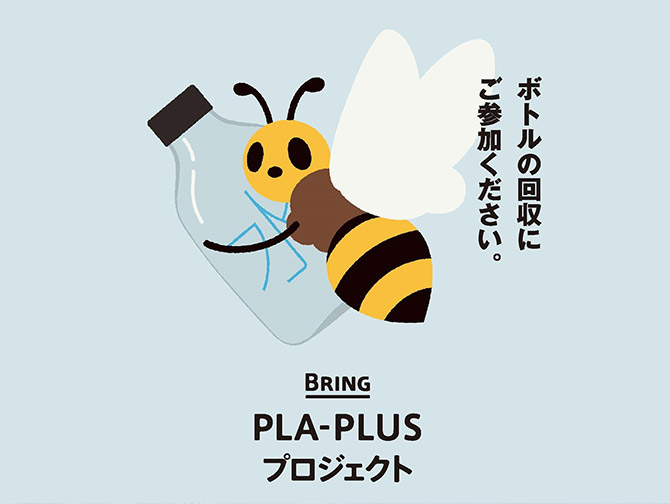 Recycling of Plastic Bottles
From July 2020, MUJI started the collection and recycling of PET material as part of its efforts to reduce plastic waste. Please bring the bottles of used Moisturising Milk/ Toning Water, or "My Bottle for Water", when they are broken or when you need to replace them with new ones. The collected bottles will be recycled into polyester raw materials, in order to reduce plastic waste and to make effective use of petroleum-derived raw materials.
【Target Products】
Empty bottles of all types of Toning Water/Moisturising Milk/Booster Essence Lotion sold by MUJI
(Target volume: 150 ml, 200 ml, and 400 ml)
My Bottle for Water
※Please remove the cap from the bottles and bring them to the store in a clean condition after washing.
※Please remove the lid of Moisturising Milk/Toning Water/Booster Essence Lotion