Consumption Tax Free Service Starts at 39 Stores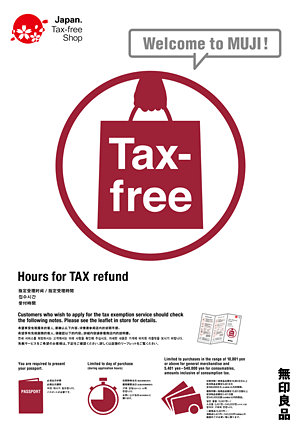 Ryohin Keikaku Co., Ltd. (Toshima-ku Tokyo; President and Representative Director: Masaaki Kanai), which expands the MUJI brand, will start offering consumption tax free service at its limited 39 stores across the country.
Since the governmental policy on consumption tax for foreign tourists was amended on 1 October 2014 with a large expansion in categories of tax-free items, we have received numerous requests from our customers asking for tax-free service. We are happy to announce that it will be offered at 39 of our retail outlets across the country. We continue to contribute to the pleasant and comfortable shopping experience at MUJI for foreign tourists.
Overview of Consumption Tax Free Service
Starting Date:

Wednesday, 15 April 2015

Participating Stores:

39
MUJI Yurakucho, MUJI Ikebukuro Seibu, MUJI Shibuya Seibu, MUJI Shimokitazawa, MUJI Tokyo Midtown, MUJI Lumine Shinjuku, MUJI Atré Ebisu, MUJI Shinjuku (Piccadilly), MUJI Shinjuku PePe, MUJI Jiyugaoka, MUJI Shinjuku, MUJI Akiba Tolim, MUJI Aeon Mall Narita, MUJI Matsumoto Parco, MUJI Lazona Kawasaki, MUJI Shin-Yokohama Prince PePe, MUJI Sapporo Stellar Place, MUJI S-Pal Sendai, MUJI Nagano MIDORI, MUJI Sakae Annex, MUJI Sakae SKYLE, MUJI Nagoya Meitetsu Department Store, MUJI Aeon Mall KYOTO, MUJI Lucua Osaka, MUJI Namba, MUJI Grand Front Osaka, MUJI Canal City Hakata, MUJI Amu Plaza Hakata, MUJI Mina Tenjin, MUJI Tenjin Daimyo, MUJI Amu Plaza Oita, MUJI Hiroshima Parco, MUJI to GO KITTE Marunouchi, MUJI to GO Narita International Airport Terminal 1, MUJI to GO Narita International Airport Terminal 2, MUJI to GO New Chitose Airport, MUJI to GO Centrair Sky Town, MUJI to GO Kansai Airport, MUJIcom Kyoto Porta
(*Note: Following stores will be starting the service from Wednesday 22 April 14, 2015
MUJI to Go KITTE Marunouchi, MUJI to Go Narita International Airport Terminal 2, MUJI to Go New Chitose Airport, MUJI to Go Centrair Sky Town, MUJI to Go Kansai Airport)

Products Covered:

General items such as clothing, household items, and home appliances. Consumable items such as cosmetics and food items.
*The category of the items as listed above has a different purchase amount for application of tax free policy.
*The items subject to tax free policy are limited for personal use and intended to be taken out of Japan.