Mid-Term Business Plan FY17-FY20
POLICY
Focus on employee proficiency, and
develop a culture and systems that
encourage Conscience and Creativity
across our organization worldwide.
Targets and Priorities
Targets
Unique items/Affordable prices
Optimum quality & price for local lives
Professional & diverse manpower
Sustainable growth
Priorities
Global Supply Chain Management
Product Development
Global HR Management
Group Corporate Governance
Detail per priority
Global Supply Chain Management

Improve planning accuracy to reduce in-store discounting

by 20% in Apparel

Review sourcing process to decrease warehouse stock level

by 50% at distribution centers

Product Development

Develop core items that fit to any local lifestyle

More flagship stores in major countries/regions
Enlarge stores in Japan (100 stores with 1600 m2 capacity)
Renovate existing stores worldwide (20 stores/year in China)

Narrow the price gap by location

Same retail price for same strategic item

Global HR Management

Set up a global HR system

Start global incentive plan

Group Corporate Governance

Apply same standards within the group
Develop a culture and systems
First : install a system to standardize the same work done by various people and processes.
Next : foster a culture of creativity and empowerment.
Goal : Sustainable development of brand and corporate values.
Business Plan in FY21 AUG*
* With the application of IFRS, the company will change its accounting term to August from 2020. The business plan is aimed to be achieved in FY21 AUG.
Revenue

JPY

500

billion

Operating Profit

JPY

60

billion

ROE

15

% or greater

Stores Worldwide

1,200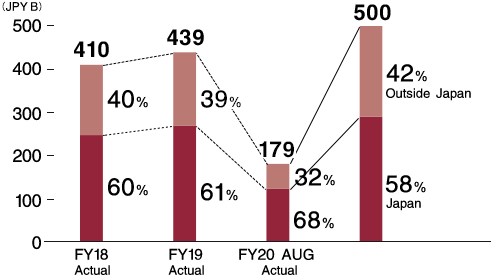 No. of Stores in FY21 AUG*
including Café&Meal MUJI and IDÉE (MUJI stores in parentheses)

Shareholder Return Policy
・ We continue to invest in store openings and renovations to increase communication with our customers. We also invest in information systems supporting back office operations and digital marketing. We estimate annual standard investments of JPY10 to JPY15 billion plus additional investment for future growth. At the same time, we are committed to returning profits to our shareholders through an annual payout ratio of 30% of consolidated earnings.
| | FY14 | FY15 | FY16 | FY17 | FY18 |
| --- | --- | --- | --- | --- | --- |
| Dividend/share (JPY) | 190 | 246 | 293 | 345 | 387 |
| Dividend Total (JPY M) | 5,048 | 6,545 | 7,768 | 9,089 | 10,201 |
| Dividend payout ratio (consolidated) | 30.3% | 30.1% | 30.1% | 30.1% | 30.0% |
| ROE | 14.3% | 16.4% | 17.7% | 18.6% | 18.8% |