Community Engagement
Connecting with Local Communities
Initiatives that involve the local community
Aiming to help create "a simple, pleasant society," MUJI is involved in a variety of initiatives led by local governments and community residents to revitalize local areas.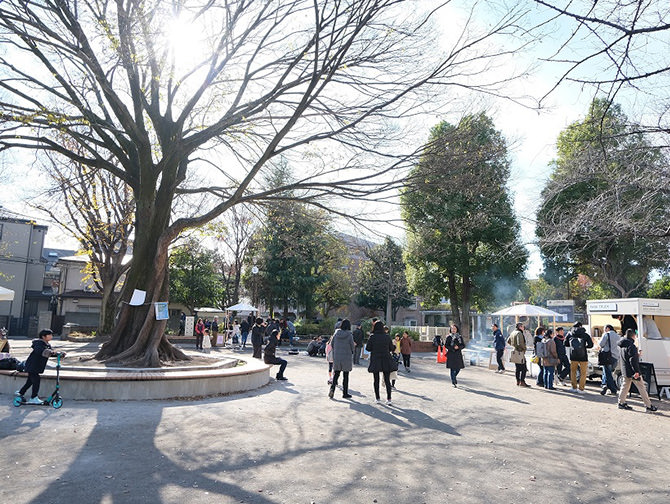 Toshima Ward, Tokyo
In 2017, we have signed a partnership agreement on community development with Tokyo's Toshima Ward, where our head office is located. As the area has small- and medium-sized parks, we geared toward promoting the "Creating parks that grow with the community" collaborative project to revitalize neighborhoods by organizing street markets and regular meetings with local residents. In December 2019, in response to community feedback, Nishisugamo Nichome Park and Agariyashiki Park facilities were renovated. At the same time, we are starting to experiment with new ways to utilize the parks, such as hosting mobile "PARK TRUCK" cafes and libraries.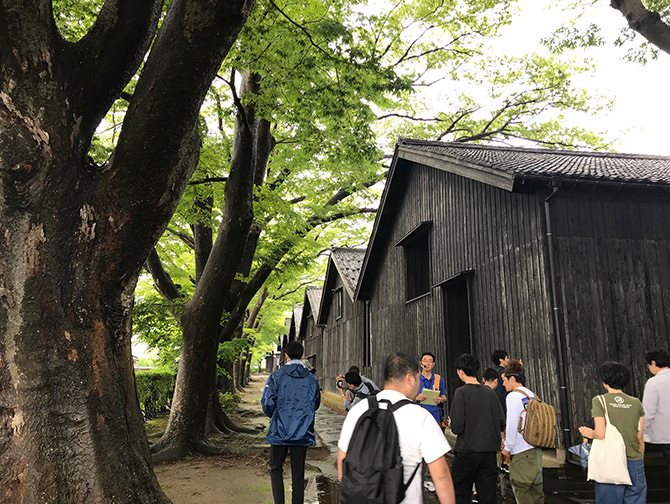 Sakata City, Yamagata Prefecture
To promote regional revitalization efforts, we have signed a partnership agreement with Sakata City in Yamagata Prefecture in July 2019. During the internal training program "Lifestyle Organizing School" held in the summer of 2019, 17 employees who applied for the training visited Sakata City. Through exchanges with local government employees and "local heroes," who have been taking leading roles in local activities, the trainees came up with ideas to improve the life in the area and presented their proposal to the city's mayor. As a result, from May 2020, our employees launched mobile sales in the mountainous area near Sakata City.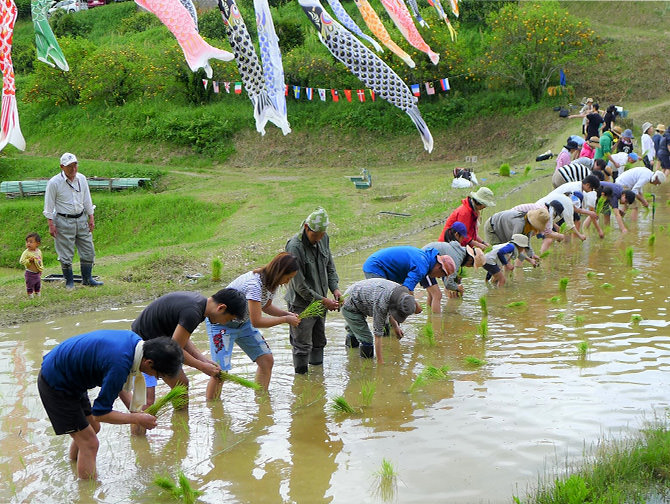 Kamogawa City, Chiba Prefecture
The "Kamogawa Satoyama Trust" project was launched in 2014 in Kamanumakitashuraku, Kamogawa City. Since then, we have been conducting various activities, such as selling saké (Japanese rice wine) brewed from rice grown in the Oyama area of the city in 2016, to establish connections between local residents and MUJI customers living in urban areas. These activities led to the signing of an "Agreement on the Promotion of Local Revitalization" with the city of Kamogawa in April 2017, and we are operating the city's multi-purpose terminal, "Sato-no-MUJI Minnaminosato," as the designated manager. In collaboration with local producers and companies, we are continuing our efforts to improve the direct sales of agricultural products and local products. At the "Development Studio" set up in the same facility, we are actively engaged in research, development, and branding of the processed products using Kamogawa's agricultural products in cooperation with producers, related organizations, and companies, with the theme of promoting the 6th industrialization*, and thereby adding more value to agricultural products through our collaboration efforts.
* Developing the economy of rural communities
Tokamachi, Niigata Prefecture
In September 2020, we have concluded a partnership agreement with Tokamachi City in Niigata Prefecture with the aim of contributing to the development and revitalization of its local community. Tokamachi City is located in the southern part of Niigata Prefecture (Chuetsu Region). The city has been known to be rich in nature; it is formed by the Tokamachi Basin and a grand riverside terrace, with the Shinanogawa River flowing through the center. However, the population is declining and aging ahead compared to the rest of the country, and the social decline caused by the population outflow of young people in particular is becoming more pronounced. One solution is the Echigo-Tsumari Art Triennial (hereafter Art Triennial), which has been held once every 3 years from 2000. It has been known as one of the world's largest outdoor art exhibitions, attracting more than 500,000 visitors from Japan and abroad. Our company signed the agreement with the city, aiming to further develop this initiative and contribute to the development of local communities and the promotion of regional revitalization. With all the experience we have accumulated over the years, we will cooperate with each other in a variety of fields, including the Art Triennial, tourism, industry, and community development.
In addition, to strengthen our mutual cooperation under the agreement and realize initiatives that are even more intrinsic to local lifestyles, we will promote local regional revitalization projects through the dispatch of our employees under the "Regional Revitalization Corporate Personnel Program" initiated by the Ministry of Internal Affairs and Communications.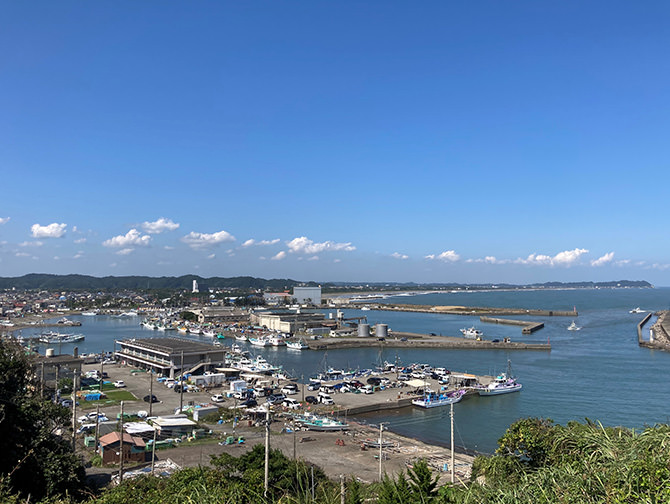 Isumi City, Chiba Prefecture
In October 2020, Ryohin Keikaku signed a partnership agreement with Isumi City of Chiba Prefecture, the Isumi Tobu Fisheries Cooperative, and SOTOBO ISUMI Co., Ltd., with the aim to promote the development of local communities and revitalize the local economy.
While Isumi City is blessed with abundant fishery products and agricultural products, it faces several challenges, including the aging of the population of fishermen, decline of fishery product consumption, and fall in fishery product prices. Moreover, as the population continues to decline and age, dealing with the issue of vacant houses and revitalization of shopping districts has become an urgent task. To further develop these efforts to resolve local issues, Isumi City and Ryohin Keikaku agreed to work closely together and further coordinate with the Isumi Tobu Fisheries Cooperative and SOTOBO ISUMI Co., Ltd. With all the experience we have accumulated over the years, we will work together to revitalize the fishery industry and shopping districts and thus to further promote tourism, their industry, and community development.
In addition, to strengthen mutual cooperation under this agreement and realize initiatives that are even more intrinsic to local lifestyles, we will work on "sales expansion for fishery products from local fishing ports," "recognition improvement for local specialties while developing new products," and "regional revitalization projects that utilize local facilities and spaces, including revitalization of local shopping districts," by dispatching our employees to the local community under the "Regional Revitalization Corporate Personnel Program" initiated by the Ministry of Internal Affairs and Communications.
Industrial promotion utilizing a former school site
Since May 2017, based at the former Oikawa Elementary School in Otaki Town, Chiba Prefecture (closed in 2013), we have launched activities with local residents to promote their industry and revitalize the local community.
In November of the same year, we were able to open a co-working space within the facility, hoping that the place will serve as a meeting place for community members to communicate and learn from each other, which in turn will lead to cooperation and collaboration and the creation of businesses. We also hope that this place becomes a hub for non-community members as a two-location work base for urban workers.
In addition, we have opened the "Confectionery Share Workshop Oikawa," where people can try their hand at confectionery manufacturing at minimal cost, as well as a limited time only "Minna Shokudo" (everyone's diner) as a way to create a place for people to enjoy food.
Through these activities, we aim to create a place where local residents can connect, create, and foster a new community.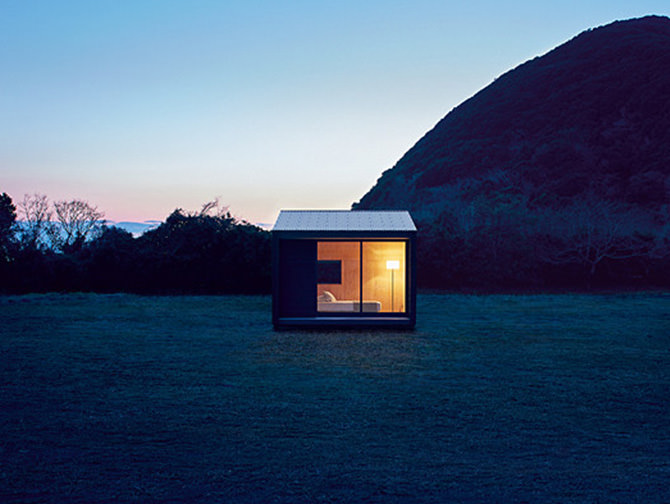 Sales of MUJI HUT utilizing a former school site
Shirahama School House is a multipurpose complex that repurposes a former school facility in the city of Minamiboso in Chiba Prefecture. The adjacent school grounds has been developed into plots with a vegetable garden. "MUJI Huts" are being sold to people leasing these plots.
Schools have always played a key role in local communities. Even after their closure, they can assume the same role through renovation. We hope MUJI Huts can bring people together and further revitalize the community.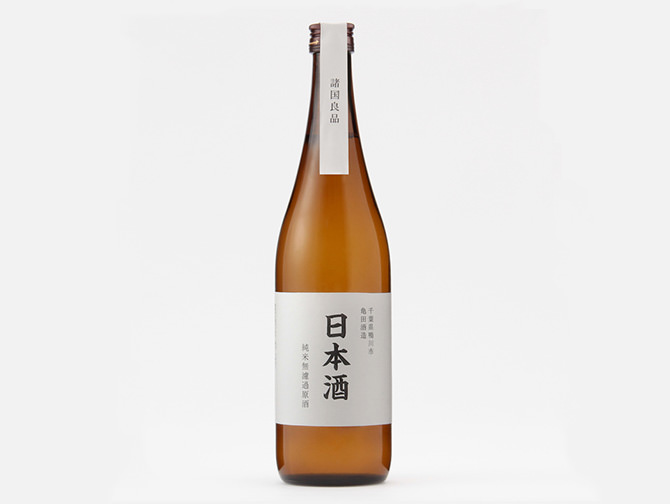 Project for Utilization of Local Resources: Japanese Saké (Rice Wine) Made from Cooking Rice
Kamogawa City, Chiba Prefecture, has been known for the quality of its rice. The region's Nagasamai varietal has been famous since the Edo period in Japan. Kamogawa's Oyama district is equally known for its picturesque scenery and Oyama Senmaida (terraced rice fields). Since the rice fields are built on narrow slopes, mass production of rice here is very difficult. Another challenging issue is the aging of the local population coupled with the declining number of workers available to maintain the fields.
Since 2014, MUJI has been engaged in activities supporting the Satoyama Trust. As a part of these activities, we have worked with the local community in developing value-added products that use cooking rice. Prices for rice have declined, and this project is one attempt at supporting the farmers. As a result of our combined efforts, Kameda Shuzo Co., Ltd. (a saké maker in Kamogawa) made a type of Japanese saké using cooking rice. This product, which is made from 100% new Nagasamai Koshihikari rice, was sold in limited quantities from 2016 only at limited MUJI locations and the Kameda Shuzo outlet.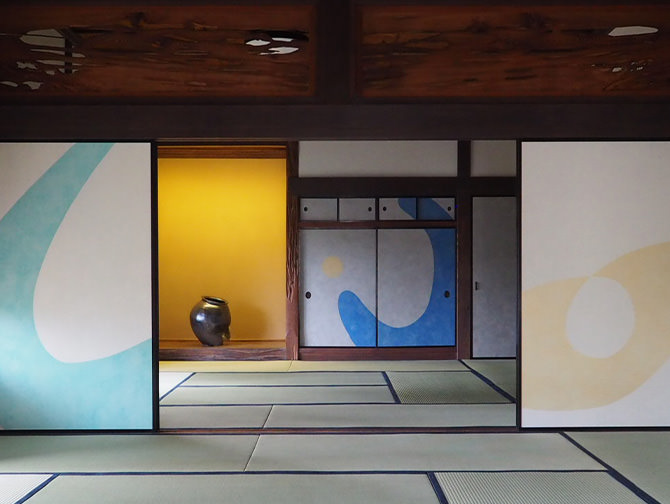 MUJI BASE Kamogawa: Old Folk House Renovation
In May 2019, MUJI completed MUJI BASE Kamogawa, the renovation of a 100-year-old folk house in Kamogawa City in Chiba Prefecture. Adjacent to an area of the Kamogawa Satoyama Trust, which preserves the entire Satoyama as a common asset of society, this facility will serve as a base for local activities, which aims to offer the chance to experience indigenization in the field and become a testing ground for "a pleasant life" and a "life without furniture."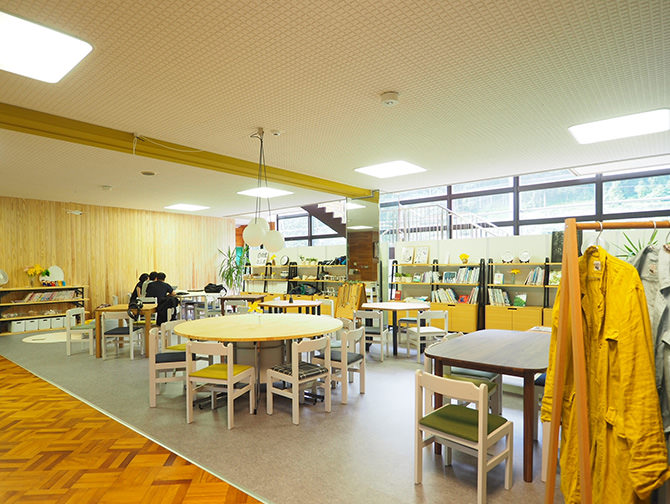 "Nikkori Café," a community café made by everyone
MUJI has supervised the concept and design of the "Nikkori Café," which opened in the Nikko Community Center, utilizing a closed school in Nikko, Sakata City, Yamagata Prefecture. Under the slogan "Making use of what we have now, together we can create something," local residents and students worked together in creating the café, reusing what was on hand including chairs and tables from the closed Hyuga Elementary School. They also held workshops to determine how the café would operate and come up with a menu that incorporates local produce.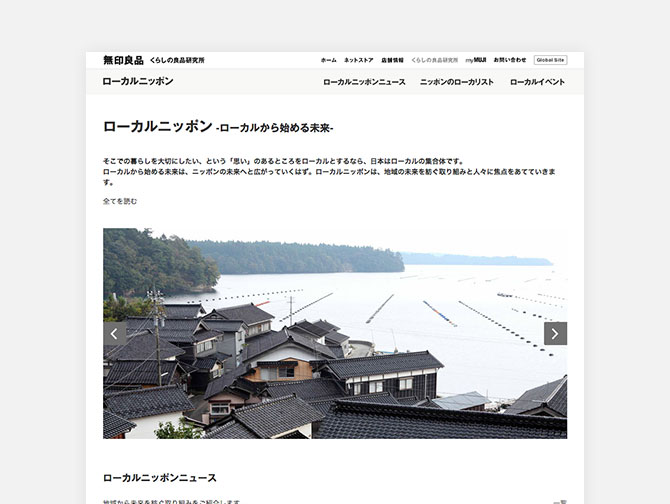 Local Japan
In 2015, MUJI launched the website "Local Nippon," a platform for MUJI to introduce and support initiatives to address regional issues throughout Japan and to further provide regional support.
There are many regions in Japan with various ways of life. Some live in cities, others in farming and fishing villages. Although each environment is different, the desire of people to cherish their lives is deemed the same.
Local Nippon aims to be a hub for people to discover the appeal of regional areas by focusing on their local activities and the people working behind these initiatives. We wish to help increase the value of areas by connecting with them, rediscovering and reorganizing their attractions, and disseminating information from the same perspective.
We are also engaged in creating mechanisms to support the resolution of issues in each region.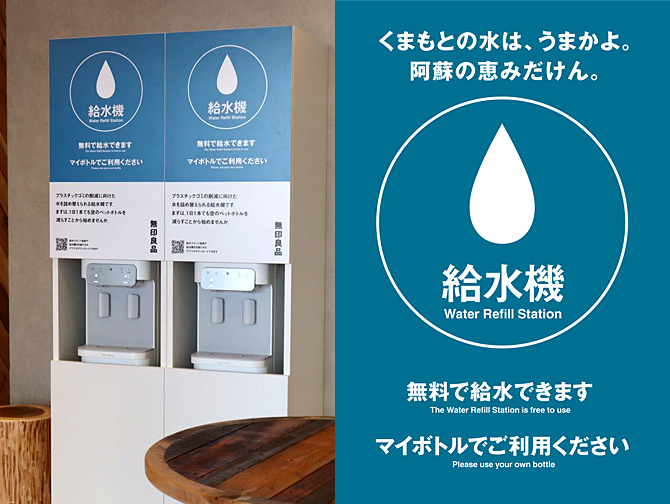 Kumamoto City, Kumamoto Prefecture
Ryohin Keikaku has spared no effort in activities that promote the recycling of natural resources and the reduction of waste. The "Water Project" makes use of water, a familiar and indispensable part of our lives, as an opportunity to think about the environment and health issues together with our customers.
Kumamoto City well-known and highly appraised as a world-class groundwater city that uses natural groundwater for all of its water supply and sewage. Ryohin Keikaku appreciated the city's efforts to conserve groundwater, and signed a partnership agreement with Kumamoto City in May 2021 with the purpose of achieving a sustainable society through water.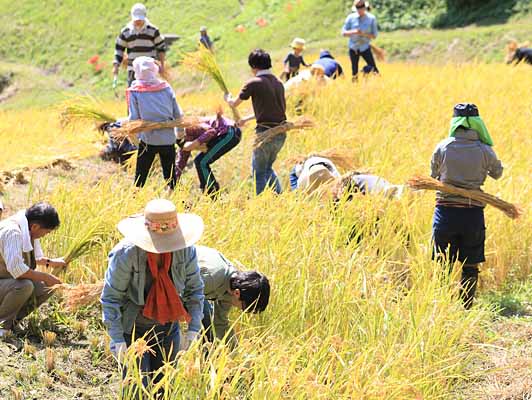 Kamogawa Satoyama Trust
In the "Satoyama" region (an area of farmland and mountain foothills) in Kamogawa, Chiba Prefecture, terraced rice fields are irrigated entirely with rainwater. This type of field is increasingly difficult to maintain as the local population ages. With the help of visitors from urban areas, we hope to preserve for and pass down future generations such kind of environment, tradition, and life in harmony with nature. MUJI Laboratory for Living and the non-profit organization Uzu co-sponsor hands-on farming events since May 2014, where participants help plant, weed and harvest in the rice fields.
Since 2016 events are also held in vegetable fields, fruit orchards, forests, and charcoal huts. Such kind of activities to preserve time and space of "Satoyama" as shared heritage of the society are part of our Kamogawa Satoyama Trust.
Public Design
By designing public spaces, taking into consideration both conscience and innovation, we aim to reconnect and rebuild relationships between people, especially those who have become fragmented in modern society, between people and nature, and between people and society.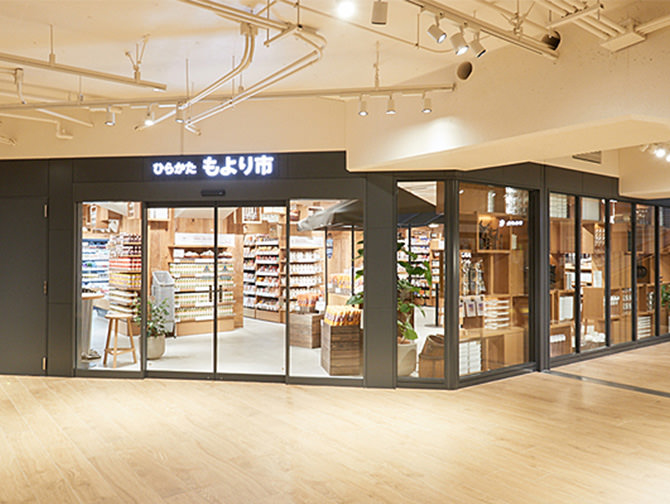 Renovation of Keihan Hirakata Station
In December 2018, "Keihan Hirakata Station," the first station space designed by MUJI, opened. Based on the concept of "a station one wants to visit all the time," the idea of "community building that starts at the station" that Keihan Hirakata Station aims for and MUJI's idea of "a simple, pleasant life" go hand in hand, and we consider the station space a place that links people in the region.
A small supermarket "Hirakata Moyoriichi" was also set up inside the ticket gates of the newly reborn Keihan Hirakata Station, where the station and commercial facilities are combined. The store, with its warm design that utilizes the same wooden materials as the inside and outside of the ticket gates, offers perishable foods, freshly prepared foods, and a grocery that features a variety of local specialties and production methods, as well as MUJI frozen foods, retort-pouch products, and confectionery. There is also an eat-in section where you can stop in for some snack or a break, and you can savor udon, curry, and other meals made with fresh local ingredients with a dashi (Japanese soup stock made from fish and kelp) theme.
The concourse outside the ticket gates has been used to hold local markets and events such as the "Hirakata Tsunagaru-ichi," in an effort to make the central exit concourse, which is the showpiece of the station, a place for local people to gather and use on a daily basis.
We aim to support the lifestyles of local residents throughout the station space.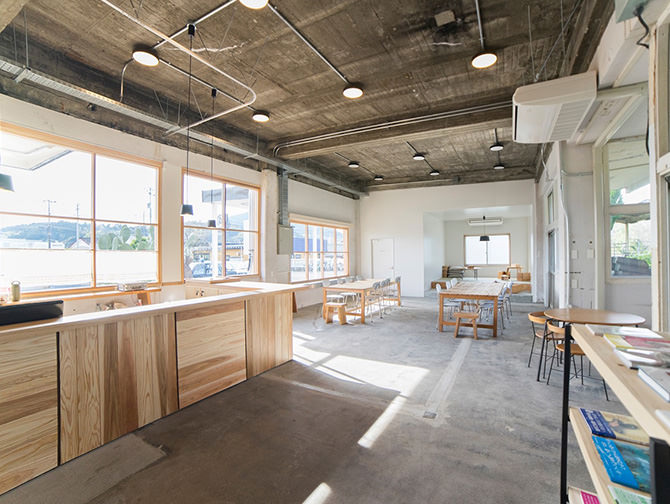 Renovation of Nichinan Station in Miyazaki Prefecture
The station building of Nichinan Station, which has been known as the gateway to Nichinan City in Miyazaki Prefecture, was renovated on March 31, transforming into a place where local residents can gather. Our company has cooperated with Nichinan City and Nomura Co., Ltd., in terms of planning for the renovation and holding hearings and workshops for local residents.
When we renovated the station building, from October 2019 to February 2020, we held workshops for high school students, who could be the main target group, and conducted a questionnaire survey for high school and elementary school students to gather their opinions on how to use the station building and how to design the space. Based on the information we have gathered through these activities, we transformed the station building into a new community space that is freely accessible to local residents, in addition to the waiting room that has been used to date.
Within the community space, we set up a free-for-use learning space, which was requested by many students, in order to make effective use of the waiting time for trains. What is more, in response to the opinions from the child-rearing generation, we created a Japanese-style common room by placing tatami mats on a low platform, so that people with children could also feel free to make use of it. In addition, some of the exterior and window frames are made of local specialty, Obisugi cedar, to present a warm appearance. In the future, Nichinan Station aims to become a hub for regional revitalization by utilizing the station building not only as a station, but also as a place for events and other activities.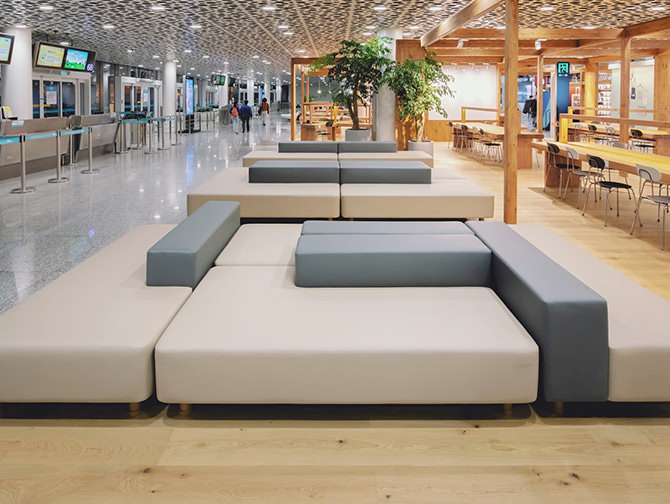 Public Space Design in Shenzhen Airport
In May 2019, a public space designed by MUJI was opened in the Shenzhen Bao'an International Airport T3 terminal. The whole space is divided into a rest area and a business area, a design made from observations of actual scenes of usage. In order to make the airport a place where people could relax their body and mind, and to make the waiting time, which can be quite long, more pleasant, the entire area features wood as its main material, aiming to make the area a more comfortable space environed by the warmth of wood.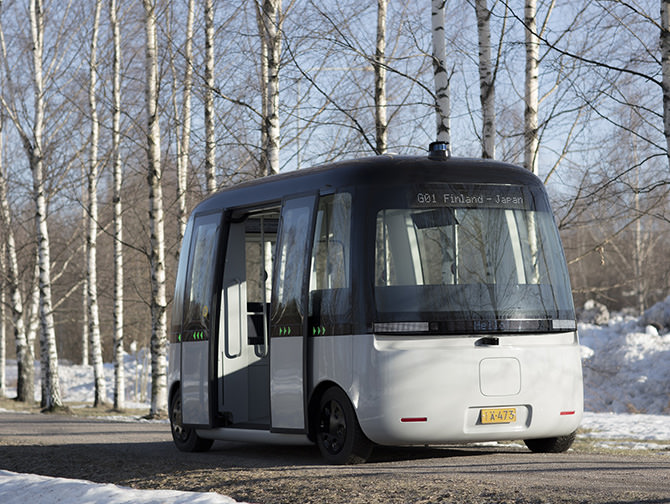 GACHA - a self-driving bus for all weather conditions
A toy capsule, which has been identified as a universal shape that embodies joy and excitement, is moving around the city with people in it. From such an image, the design of the GACHA shuttle bus was born.
MUJI, which proposes the idea of "a simple, pleasant life" in various countries and regions around the world, is not only selling products needed for daily life but also focusing on a variety of issues that society is facing nowadays. MUJI believes that cutting-edge technologies such as autonomous driving are essential in solving problems not only in cities, but also in outlying regions suffering from declining birthrate and aging population. We also believe that the GACHA bus, in addition to it being an all-weather vehicle, is a good example as it targets practical applications as a community-shared public transportation system rather than a privately owned vehicle. In line with MUJI's thinking, we started a joint project in 2017 with Sensible 4, a Finnish company that researches and develops autonomous driving technology. The design features include a minimalist and friendly shape with no front or back, the LED light belt serves as both headlights and an external communication screen, and a round bench seat with a spacious interior without a driver's seat.
MUJI not only designed the bus itself, but it also contributed to the grand design of the area where the bus will soon run. MUJI hopes this bus will not only serve as a means of transportation, but also a device for creating a warm society, where people can meet, come together, and create a new type of local community. With the aim of mass production in the near future, we are carrying out pilot tests in a city near Helsinki.
Bringing "a simple, pleasant life" to many people, cute and round buses travel around the city and countryside. GACHA aims to be become such a platform that brings peace and happiness.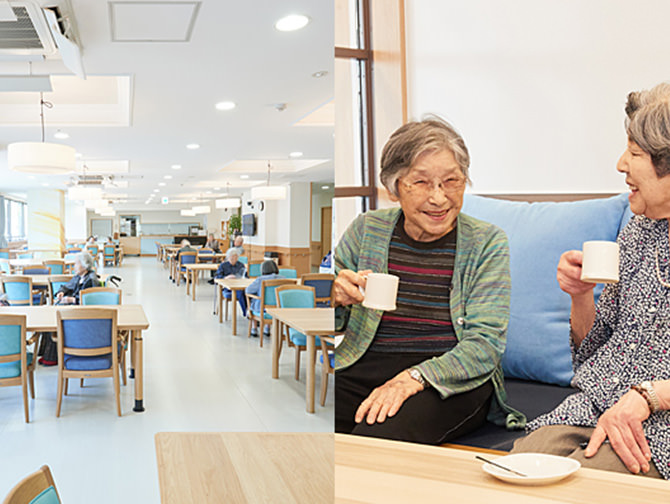 Renovation of nursing facilities for the elderly
"If the staff members enjoy working there, it will naturally be a brighter facility." To create such a pleasant care home, we have launched a renovation project in coordination with MUJI and IDÉE, which considers the lives and connections between the elderly residents and the staff who work there.
Focusing on the two points of difference in the relationship between residents and working staff, and the fact that life there is like life at home, we created a place based on the concept of a "bright, open, and pleasant care home."
We renovated SOMPO Care LAVIERE Hikarigaoka Park in January 2018 and SOMPO Care SOMPO House Tokiwadai in March 2019, with designs made in coordination by MUJI and IDÉE. With the aim of creating a "pleasant place to spend one's time" in the common areas, we held repeated conversations with the on-site staff in order to discuss the comfortable lives of users at the nursing home and to create a space where the staff can work efficiently and happily.
We respect the opinions and individuality of the staff who work there. Through their creativity and conscientiousness, we aim to create a care home that is open to the local community and a place where people can interact with each other and be close to the community in a lively way.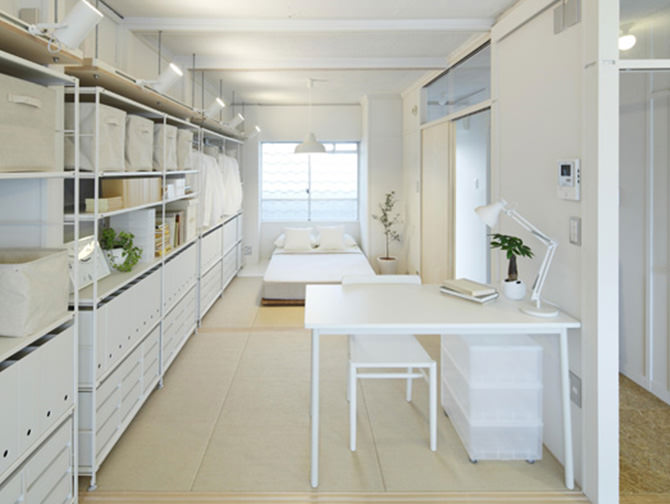 MUJI×UR housing complex renovation project
The role of public housing complex, built to solve Japan's post-war housing shortage, has changed.
MUJI and the Urban Renaissance Agency are collaborating on the "MUJI x UR housing complex renovation project," which considers how to revitalize old buildings.
Rather than tearing down old buildings, we are working with everyone to transform them into homes that fit in with modern lifestyles.
Community Support
To revitalize communities by deepening interpersonal relationships and to regain harmony with nature from a place close to home. Various initiatives for a better future have already started in many places. MUJI supports such activities and the people who take part in them through its products and services.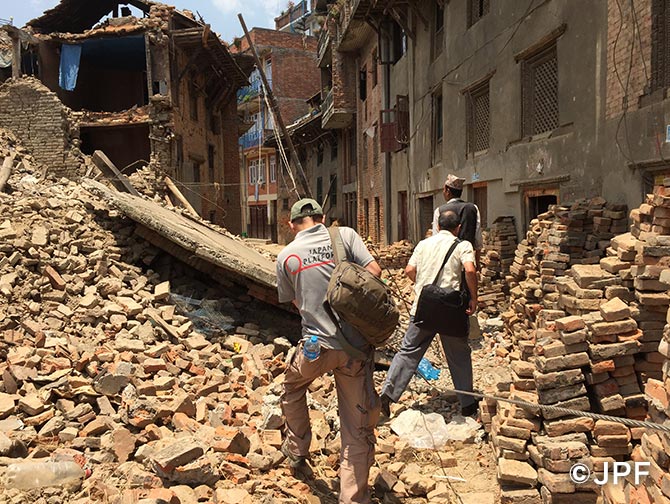 Post-disaster recovery support
MUJI provides post-disaster recovery support through products and fundraising initiated by organizations such as the Japan Platform and the Japanese Red Cross Society, as well as local governments. In FY2019, community investments have amounted to 7 million JPY, including emergency disaster assistance, donations to non-profit and non-governmental organizations, and material support.
Assistance examples:
*Scroll to the right to view the full table
Disaster Support
Contents of support
July 2020
Emergency assistance for torrential rain damage in July 2020
Donations: 0.67 million yen
Product donations: 3.03 million yen
October 2019
Emergency assistance for Typhoons 15 and 19
Donations: 1 million yen
Product donations: 0.35 million yen
Donations from fundraising: 4.33 million yen
September 2018
Assistance for the victims of the 2018 Hokkaido Eastern Iburi earthquake
Donations: 1 million yen
Donations from fundraising: 3.14 million yen
July 2018
Assistance for the damages caused by the torrential rains in western Japan
Donations: 6.43 million yen
Donations from fundraising: 6.81 million yen
April 2016
Emergency assistance for damages caused by the Kumamoto earthquake
Donations: 3 million yen
April 2015
Emergency assistance for the damages caused by the earthquake in Nepal
Donations: 3 million yen
2011 to 2020
Great East Japan Earthquake reconstruction support activities
Product donations: 87.15 million yen
Donations from fundraising: 44.39 million yen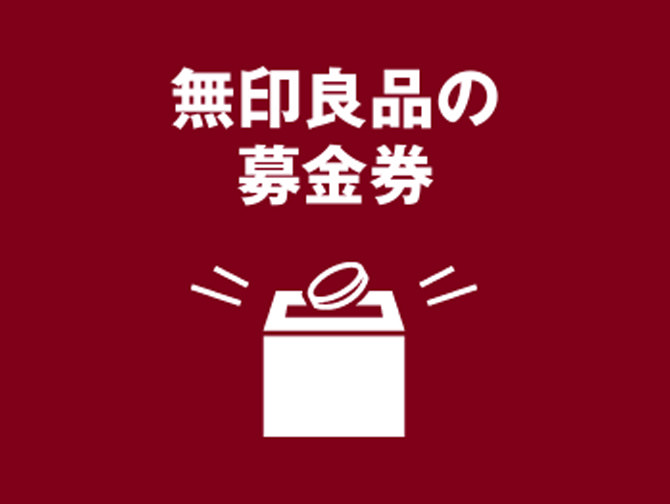 Fundraising Activities
The fundraising system in MUJI online store has enabled everyone to easily donate a small amount to an organization/activity they want to support, just like the traditional street corner donation box. We have introduced more than 50 NGOs/NPOs since the start-up on February 24, 2011.
At the end of August 2017, it was relaunched for donations to organizations associated with MUJI's products and services. We provide a platform for promotion of and donation to the organizations that serve society.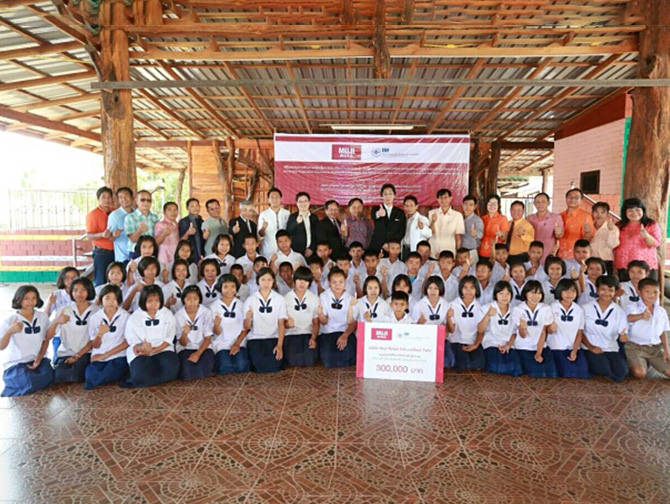 Fundraising in Thailand
MUJI Retail (Thailand) places fundraising boxes in each of its store to collect donations for the Darunee Scholarship Fund.
The Darunee Scholarship Fund is an international foster parent system that aims to support children in the poorest areas of the world to go to school.
This activity was carried out as a charity initiative to provide educational opportunities to the children in Thailand. However, MUJI Thailand not only collects the money, but also donates a portion of its sales revenues to support the initiative.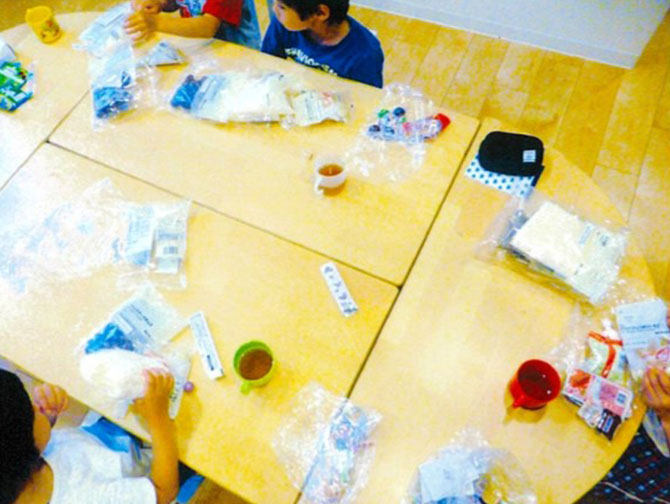 Food Donation to Children's Cafeterias
In June 2020, food was distributed to 12 social welfare corporations and orphanages through the Hyogo Children's Cafeteria Network, the Kobe City Council of Social Welfare, and the Kobe City Single Parent Family Support Center for children who have difficulties eating at home during temporary school closures due to COVID-19 pandemic. We worked together to provide support by donating food through the "Toshima Children's WAKUWAKU Network," an NPO that MUJI had built connections with through its activities in Toshima Ward.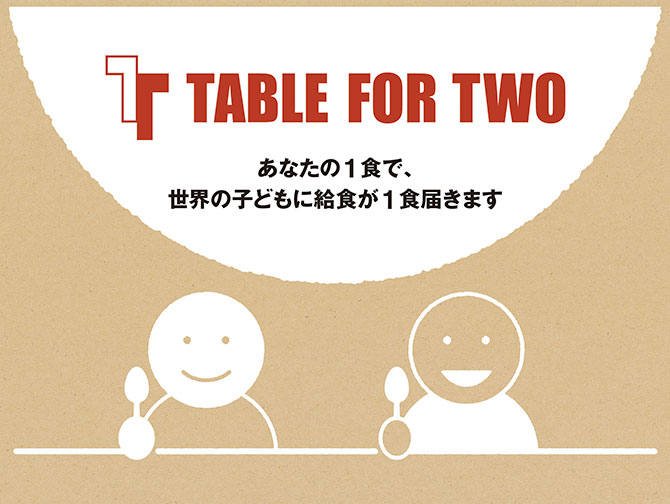 Donation menu at Café&Meal MUJI
Café&Meal MUJI in Japan supports the TABLE FOR TWO program provided by TABLE FOR TWO International, a Japanese non-profit organization working to combat worldwide hunger issues.
With the TABLE FOR TWO program, when customers purchase a certain menu item, a 20 yen donation will be made which is included in the purchase price. Customers not only enjoy eating healthy meals, they at the same time help by donating 20 yen, which is equivalent to one school meal. In this way, hot school meals can be delivered to children in developing countries.
From August 2017 we also began to support the program through MUJI Online Fundraising system.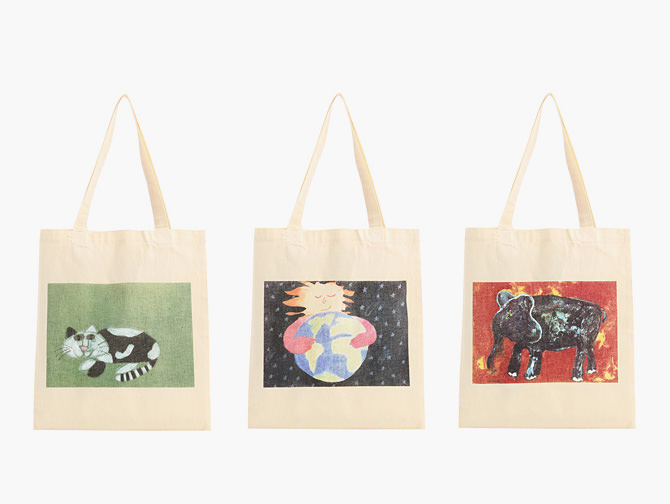 My Bags with Children's Artworks
The Kids Earth Fund (KEF) is a specified non-profit organization that donates art materials, picture books, medical supplies, etc. to children around the world who have suffered from diseases, wars, disasters, and other traumatic experiences. KEF is dedicated to healing children's mental wounds by giving them warmth and hope through art.
MUJI sponsors KEF by selling My Bags printed with paintings that the children have drawn themselves.
Not only Japan, but the entire world has been captivated by the power and the emotion of the children's artwork. Today, the activity includes not only children's art workshops but also exhibitions, corporate collaborations to create marketable products, and much more. In August 2017, we began to support the program through the MUJI Online Fundraising system.
MUJI will continue to support KEF through selling these My Bags printed with children's paintings.
*For the sale of each My Bag printed with children's artworks, 15 yen will be donated to the KEF, which is a specified non-profit organization.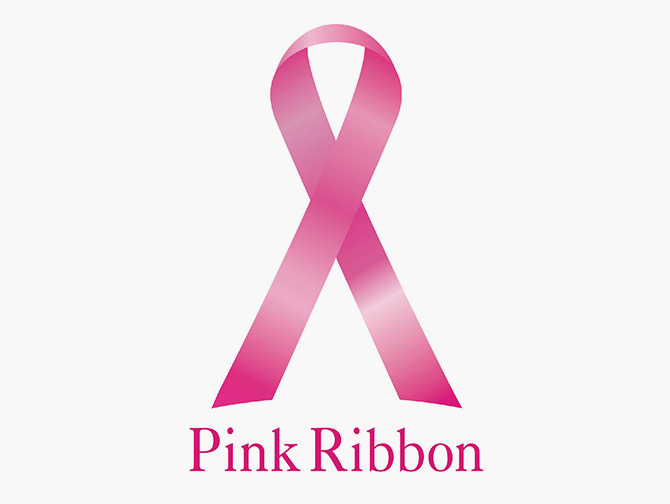 Supporting the Pink Ribbon Campaign
Pink Ribbon has been identified as a universal symbol of breast cancer awareness and support. It began in the 1980s in the USA with the hope of reducing the number of people suffering from breast cancer; it is also an initiative that promotes early screening for breast cancer.
Every year, MUJI donates a portion of the sales of innerwear products to organizations that promote the Pink Ribbon Campaign. The applicable products are MUJI's built-in cup innerwear and brassiere for ladies and maternity series. The donations are utilized in various activities against breast cancer, not only in the maintenance of screening devices and training of screening engineers but also in the support and guidance for patients, caregiver groups, etc. Since August 2017, we have identified organizations that promote the Pink Ribbon Campaign as recipients of the MUJI Online Fundraising system.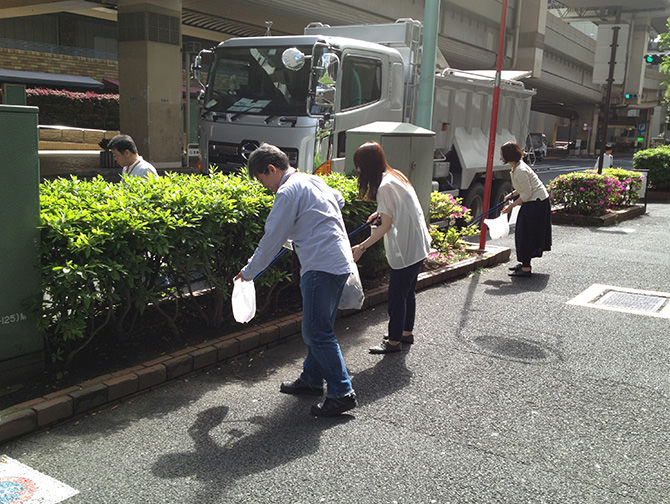 Volunteer Activities
Employees of Ryohin Keikaku participate in volunteer activities as part of their work.
The head office of Ryohin Keikaku conducts a community cleanup activity around the head office building. Every month, about 20 volunteers from each department at the head office pick up trash around the company as a way of showing our appreciation to our neighbors who have been so kind to us. Since the beginning of the activity in 2008, more than 2,200 people have participated in this initiative. Starting in 2020, some of our stores also organize cleanup activities around the stores, and participate in cleanup activities held by commercial facilities and local communities where we operate our stores.
In addition, to promote and support employees' volunteer activities, an internal system is in place that allows employees who wish to participate in local community's volunteer events, to do so as part of their work, after consulting with their supervisors.
Also, employees can take up to 20 days of volunteering leave per year to participate in volunteer activities personally. In addition, employees can take up to 10 days of special paid annual leave per year to participate in social contribution activities that the company offers.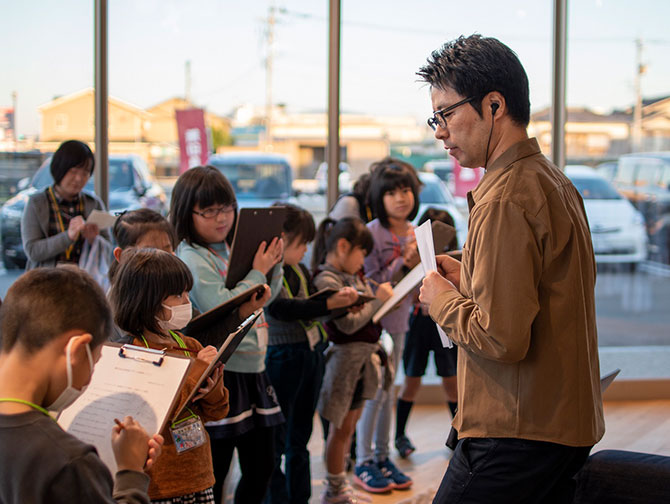 Workplace Experience
MUJI stores in Japan sponsor work experience programs for elementary, junior high, and high school students. Students attending schools near our stores perform actual work done by MUJI employees, learning the dignity of work and the enjoyment of being a contributing member of society. By experiencing service and teamwork that enhance customer satisfaction, students learn the value of work in the real world. Through these and other activities, participating MUJI store managers and staff also learn valuable lessons.
In 2019, a total of 31 schools and 79 students across Japan participated in workplace experience program.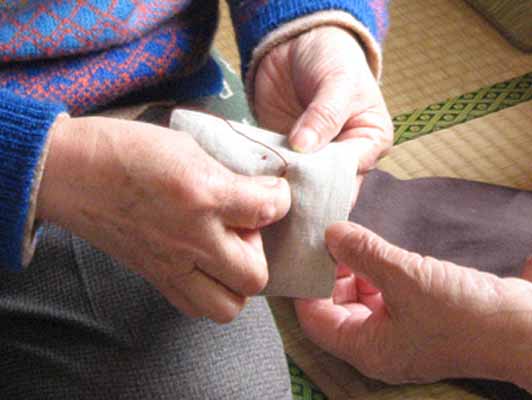 Otsuchi Sashiko Quilting Project
Tohoku district (Northeast Japan) is the home of traditional hand embroidery known as "Sashiko". It has become an ongoing feature of a recovery project in the local town of Otsuchi and its surrounding Iwate and Sanriku coastal regions since after the Great East Japan Earthquake. This "Otsuchi Sashiko Quilting Project" aims to revitalize the area by creating employment opportunities, contributing to local communities, and passing the technique of Sashiko down the generations.
We support the project by selling Sashiko goods designed and created for MUJI as limited edition, such as coasters, pouch bags, tea mats and place mats.