MUJI HOSTS EXHIBITION OF CHILDEREN'S ARTWORK AND INTERACTIVE INSTALLATION BY NAKED INC. AT FIFTH AVENUE FLAGSHIP STORE TO BENEFIT KIDS EARTH FUND
"WORLD KID'S FIREWORKS EXHIBITION"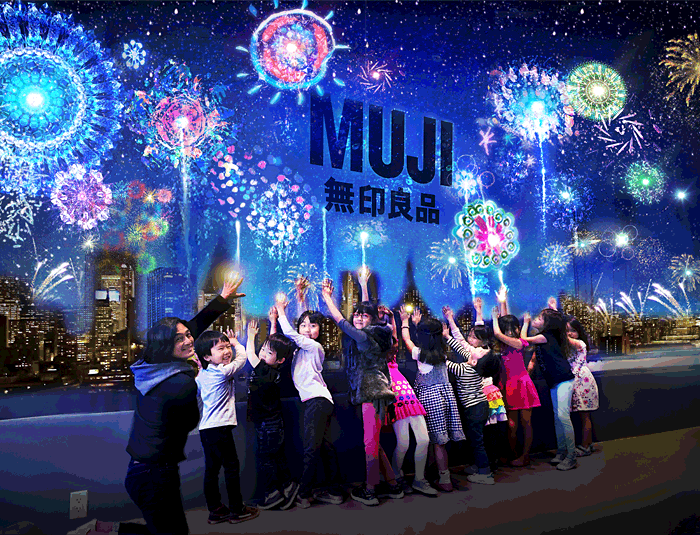 MUJI is delighted to announce it will host an exhibition of children's artwork and a digital interactive installation by Tokyo-based interactive studio Naked Inc. to benefit Kids Earth Fund, a non-profit organization dedicated to environmental health and global peace. The exhibition will be on view from Thursday, October 20th to November 22nd at MUJI's Fifth Avenue flagship location.
The exhibition, entitled Kids Earth Project, will feature artwork created by children around the world curated by the Kids Earth Fund. There will also be a digital display of illustrations created by New York City-based kids ages 5-12 during a MUJI-sponsored workshop held at the Fifth Avenue flagship store. These pieces display a sense of purity and simplicity that only children can visualize, reflecting Kids Earth Funds' mission of opening cross-cultural communication and echoing MUJI's human-centered approach to retail.
MUJI has selected three of the Kids Earth artworks to be made into limited edition MUJI My Bags, which will be on sale for $5.00 at the Fifth Avenue store for the duration of the exhibit. All proceeds from the sale of these bags will go to Kids Earth Fund to help facilitate their global mission statement advocating peace and conservation.
In addition to the children's artwork, MUJI collaborated with the digital design studio, Naked Inc., to create an interactive digital firework display, which will be projected on the store wall on the main floor of the flagship from dusk to closing time. Visitors can interact with the project by touching the wall causing the fireworks to sporadically burst across the screen.
http://www.muji.com/us/feature/kidsearthfund/
About:
KIDS EARTH FUND
(KEF) is a non-profit organization whose mission is to promote peaceful co-existence and environmental conservation through the medium of children's art. All KEF proceeds are donated to projects for children throughout the world who suffer from the results of war, poverty and environmental contamination. Since its establishment in 1988, KEF has sponsored and carried out distribution of monetary and non-monetary (e.g. medical supplies, art/education materials etc.) donations. KEF commissions children's art in order to achieve their global mission, and with the assistance of corporate sponsorships, a selection of children's paintings are to create marketable products such as calendars, wrapping paper, greeting cards, logo stickers and many more. Sponsorship proceeds help facilitate the global communication of KEF's mission statement advocating peace and conservation.
NAKED Inc.
Naked Inc. is a Tokyo-based creative agency. Founded in 1997, Naked Inc. creates digital and video projects from projection mapping, 3D projection illumination and music videos for a variety of clients worldwide.

For more information, please contact:
Ryohin Keikaku Co., Ltd.
Corporate Planning Office Tel.
+81-3-3989-4410