The Largest Store in Southeast Asia
MUJI to Open a Flagship Store at Plaza Singapura, Singapore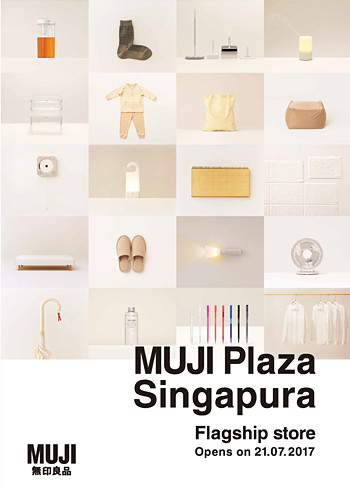 MUJI (SINGAPORE) PRIVATE LTD. (Singapore; Miho Takagi, Managing Director), a group company of Ryohin Keikaku Co., Ltd. (Tokyo; Satoru Matsuzaki, President & Representative Director), has announced that it will open the first flagship store in Southeast Asia in Singapore on 21 July 2017. With the store size spanning over approx. 1640 m2 on the ground floor of a large shopping mall at the heart of Singapore, MUJI Plaza Singapura will be the largest retail outlet in Southeast Asia.
The store will be home to the third Café&Meal MUJI. It will also house new merchandise line for Singapore from series such as MUJI Labo, Found MUJI, and IDÉE. Open MUJI communication space will be introduced exclusively as well.
By adding this outlet, the number of MUJI stores outside Japan becomes 423 and finally exceeds the total in Japan.
Café&Meal MUJI Plaza Singapura launches new menu items
Café&Meal MUJI offers the natural flavor of food featuring simple dishes and desserts made from carefully selected, seasonal ingredients. So far there are 25 outlets in Japan and 15 outlets in 4 locations outside Japan.
Café&Meal MUJI Plaza Singapura is the third outlet in Singapore, following the first Café&Meal MUJI PARAGON in 2015 and the second Café&Meal MUJI Ruffles City opened a year after. In addition to the standard deli menu, there will be exclusive items such as Pork Katsu Donburi (pork cutlet over rice). Onigiri meal (rice ball) with deli will also be available as a takeaway set.
First Found MUJI in Singapore
Found MUJI started its journey around the world with a keen eye for good home products, exploring the underlying values of the makers, retaining the essence of their creations, and re‐tailoring them into MUJI merchandises that fit the modern way of life.
To mark the launch of the city's first Found MUJI concept at Plaza Singapura, MUJI welcomes renowned product designer Naoto Fukasawa for a talk event at nearby SOTA Concert Hall on 21 July. As one of the advisory board members of MUJI and an observer of the activity since 2003, the designer have accompanied the Found MUJI journeys.
Open MUJI for communication with customers
Open MUJI is introduced for the first time in Singapore. It will be used as a platform to forge ties with the customers by organizing workshops and seminars by local creators and designers.
[Store information]
Store Name
MUJI Plaza Singapura / Café&Meal MUJI Plaza Singapura
Address
68 Orchard Road, #01-10 to 17, Plaza Singapura, Singapore 238839
Business hours
10:00~22:00
Floor Space
approx. 1640m2 (including Café&Meal MUJI approx. 260m2)
Opening date
21 July 2017
New goods & services
in Singapore
MUJI Labo / IDÉE / Found MUJI / Open MUJI / MUJI Embroidery station
For press inquiries, please send a message via Contact us portal.
PR Department, PR & ESG Division
RYOHIN KEIKAKU CO., LTD.
Tokyo, JAPAN