Relocation and Expansion of Flagship Store in Thailand: MUJI ZEN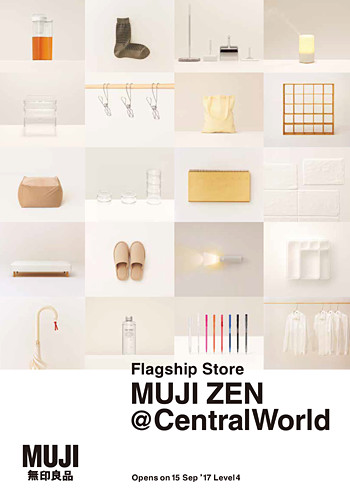 MUJI Retail (Thailand) Co., Ltd. (Bangkok; Akihiro Kamogari, Managing Director), a group company of Ryohin Keikaku Co., Ltd. (Tokyo; Satoru Matsuzaki, President & Representative Director), has announced that it will reopen MUJI ZEN as Thailand flagship store on 15 September 2017. Since the first opening in January 2012, the store will move from the fifth floor to the fourth floor of ZEN Department Store located in CentralWorld Shopping Mall at the heart of Bangkok. It will become the largest of all MUJI outlets in Thailand with the sales floor of 878 m2.
The store will house new merchandise line for Thailand from series such as MUJI Labo and Found MUJI. The Embroidery Service Station and Interior Advisor service will be introduced as well.
First Found MUJI in Thailand
Found MUJI started its journey around the world with a keen eye for good home products, exploring the underlying values of the makers, retaining the essence of their creations, and re-tailoring them into MUJI merchandises that fit the modern way of life.
To mark the launch of the country's first Found MUJI concept at ZEN, MUJI welcomes renowned product designer Naoto Fukasawa for a talk event at nearby Central Embassy on 15 September. As one of the advisory board members of MUJI and an observer of the activity since 2003, the designer have accompanied the Found MUJI journeys.
Expansion of Home Furnishing Zone
Larger sales floor allows displaying a variety of home furnishing articles. Green plants will be introduced for the first time. Customers may actually see, feel and compare beds and storage furniture. Interior Advisors will be available for complimentary individual consultation for a space-efficient home and layout planning services using a simulator.
[Store information]
Store Name
MUJI ZEN
Address
999/9 Rama 1 Road, Pathum Wan Bangkok, Thailand
Business hours
10:00~22:00
Floor Space
878m2 (expansion from 617m2)
Opening date
15 September 2017
New goods & services
in Thailand
MUJI Labo / Found MUJI / ReMUJI / MUJI Green / MUJI YOURSELF (stationery stamp service) / MUJI Embroidery Station, etc.
For press inquiries, please send a message via Contact us portal.
PR Department, PR & ESG Division
RYOHIN KEIKAKU CO., LTD.
Tokyo, JAPAN