MUJI ・ MUJI Diner ・ MUJI HOTEL Simultaneous Open in Ginza
Detail of MUJI Global Flagship Store 「MUJI GINZA」
The Yomiuri Namiki-dori St. Building in Ginza, Tokyo, jointly developed by the Yomiuri Shimbun (Tokyo; Toshikazu Yamaguchi, President & Representative Director) and Mitsui Fudosan Co., Ltd. (Tokyo; Masanobu Komoda, President & CEO), is completed today, in which Ryohin Keikaku Co., Ltd. (Tokyo; Satoru Matsuzaki, President & Representative Director), as has already been announced, will open the MUJI global flagship store 「MUJI GINZA」, 「MUJI Diner」 and 「MUJI HOTEL GINZA」 (planning, design and management by UDS Ltd. of Odakyu Group (Tokyo; Keibun Nakagawa, President & Representative Director)) on 4 April 2019.
Detail information will be updated timely on the official website of 「MUJI GINZA」 from tomorrow onward.
Official Website URL: https://shop.muji.com/jp/ginza/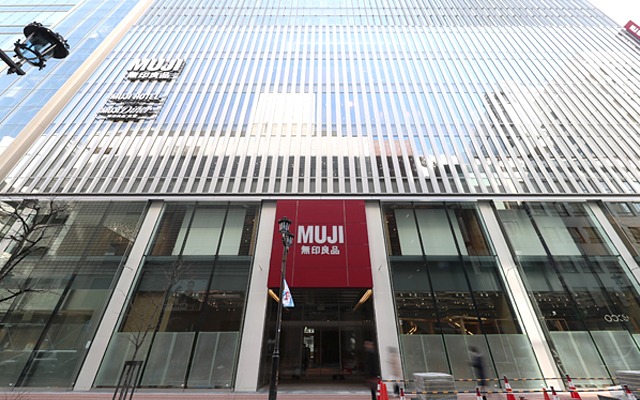 Global Flagship Store Connecting People, Nature and Society
MUJI aims to be a platform for building better connections between people, people and nature, and people and society. The new Ginza global flagship store will be something to ponder for all who come across it: people from around the world visiting Ginza, those living and working here, producers creating new products to sell here, and more. The idea is to be a place for them to actually meet, and for new connections to be formed. For that reason, from the perspective of customers, we have gathered the products and services that is truly necessary in our daily lives. Together with two firsts for Japan, MUJI HOTEL GINZA and MUJI Diner, we are spreading MUJI's idea of 「a Simple, Pleasant Life」 from Ginza to the world.
Basic Item for Everyday Life
The sales floor of MUJI GINZA has a focus on commodities for everyday life, such as socks, innerwear, towel, slipper, toning water, etc. We aim to make it easy to understand not only the quality and price of the goods, but also the background information and the meaning behind.
New Products & Services at MUJI GINZA
Fruits & Vegetables (1F)
MUJI Ginza introduces a regular stock of 30 - 50 fresh, seasonal fruit and vegetables - including organic varieties and those produced with less agrochemicals - from farms throughout Japan, particularly the prefectures neighboring the Kanto region. Tasting service is carried out every day. Customers can learn about what makes the fruit and vegetables so delicious, as well as the story of how they were grown. Furthermore, we provide chances for producers to sell their goods in our store. We are also planning to carry out field tours for customers to join.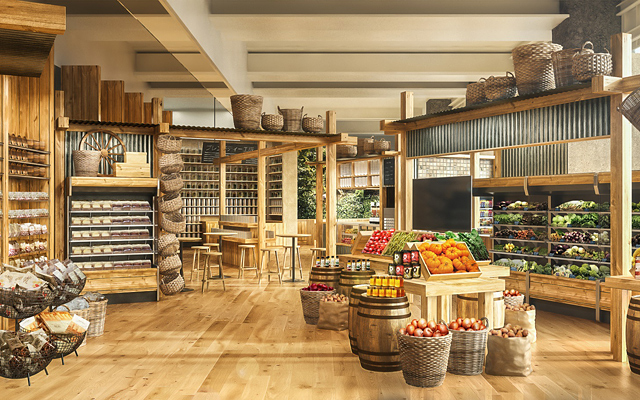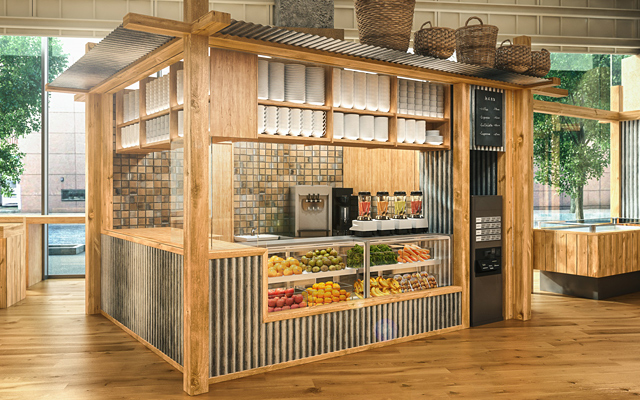 Juice Stand (1F)
Fresh juice, made to order with seasonal fruits and vegetables, is provided at the Juice Stand. We also offer soft-serve ice cream made with Shinrinno Bokujo Jersey milk straight from the ranch, a popular item at Café&Meal MUJI. The Juice Stand is a nice space to sit back and take a quick break.
Bakery (1F)
Fluffy bread rolls which is wanted every day, sandwich roll made with seasonal ingredients, cream-filled bread made extra creamy thanks to Honwa Kato sugar, anko jam bread made with adzuki beans from Kyoto... A variety of bread are baked freshly in-store, catering for the need from young children to the elderly.
Tea Blending Service (1F)
32 varieties of blended tea made from three base teas - organic green tea, roasted green tea, and rooibos tea, are sold by weight. The teas are blended after the order is taken, so customers can watch the blending process and enjoy it at its freshest.
Bentos, salads and sliced fruit for sale. Delivery service for daily bentos (1F)
Daily bentos made to present the natural flavors of their ingredients, rice bowls, noodles, salads, sliced fruit and more are available for sale. A new delivery service for daily bentos is also available to customers around Ginza (Chuo, Chiyoda, and Minato wards). Customers can use the MUJI passport APP to order a daily bento up until the morning of the day, and delivery will be made according to the designated time frame.
Customize Service for Book (4F)
Customers can not only buy and read books, but also customize the book to make it their very own. Customers can customize their books in different ways, such as to re-bind it (to customize the cover and the content of the book) or to make a deluxe edition by adding photos to it. Furthermore, card printing service using letterpress printing machine is also available.
MUJI SUPPORT (5F)
This is a consultation service regarding any annoyances in daily life. Specialized staff members will help customers create their ideal home by tackling the storage concerns, helping with product selection, and even providing advice on how to coordinate the entire home. We offer a wide variety of support services, as we even have advisers who could visit customers' home to help replace light bulbs, clean the blinds, and resolve any other annoyances in daily life.
To experience the richness and joy of food: MUJI Diner (B1F)
Just like a bite of the juicy sweet & sour fresh-picked tomato, MUJI appreciates the deliciousness of "simple food". MUJI Diner, which is opened on B1F, is a place for families, friends and individuals to enjoy their time from morning till night. MUJI Diner is a place where you can enjoy "simple food" that is delicious and good for health in a roomy space. For breakfast (Opening hour 7:30~11:00), with the theme of "to start the day by tuning up the body", we provide simple and healthy set such as freshly made soy milk porridge, rice ball, miso-soup, freshly baked bread, fried egg, etc. Lunch (Opening hour 11:00~15:00) has the theme of "Delicious set menus" and we offer daily special menus with fish freshly delivered from Odawara fishing port every morning as well as salad bar. Dinner (Opening hour 17:00~22:00) reflects the theme of "Eating around the table". We use seafood which is directly delivered from Odawara fishing port and meat and vegetables which are carefully selected from their production field to make dedicated dishes which is delicious and fresh.
Reducing Plastic Waste
Disposable plastic bags and straws harm the environment. To do what we can to reduce the damage, neither plastic bags nor plastic straws are provided at MUJI Ginza. Instead, we switch to paper bags of which the material and size are reviewed. We also encourage customers to bring their own bag by offering MUJI passport miles to those who do so. In addition to plastic straws in the food section, we are actively making efforts to reduce plastic waste, such as by using paper plates and cutlery for tasting services.
MUJI GINZA Overview
Name :

MUJI GINZA

Location :

3-3-5, Ginza, Chuo-ku, Tokyo, Japan

Completion date :

28, Feb, 2019

Grand Opening :

4 April 2019 (plan)

Floors :

B1F - 6F (7 floors)

Restaurant :

MUJI Diner 118 Seats (B1F)

Official Website :

https://shop.muji.com/jp/ginza/ (Japanese only)
【Floor Plan】
7~10F
MUJI HOTEL GINZA
HOTEL Room
6F
MUJI GINZA
ATELIER MUJI
HOTEL Reception
5F
MUJI SUPPORT, Storage, Bed, House Keeping
4F
Living, kitchen ・ Tabele Ware, Kid's Ware
3F
Socks ・ Inner Wear, Stationery, Skin Care ・ Make Up
2F
Men's Wear, Women's Wear, MUJI Labo
1F
Fruits & Vegetabls, Food, Bakery
B1F
MUJI Diner
MUJI HOTEL GINZA Overview
Name :

MUJI HOTEL GINZA

Location :

3-3-5, Ginza, Chuo-ku, Tokyo, Japan

Grand Opening :

4 April 2019 (plan)

Reservation Start :

mid-March 2019

Planning, interior design and management by :

UDS Ltd.

Guest rooms :

Total 79, (13.62m2~51.62m2)

Floors :

6F - 10F

Restaurant :

44 Seats (6F)

Official Website :

https://hotel.muji.com/en/
(available in Japanese, Chinese and English)
For press inquiries, please send a message via Contact us portal.
PR Department, PR & ESG Division
RYOHIN KEIKAKU CO., LTD.
Tokyo, JAPAN