Tenth Anniversary of Joint Product Development Project with Kyrgyz
Launch of Found MUJI Kyrgyzstan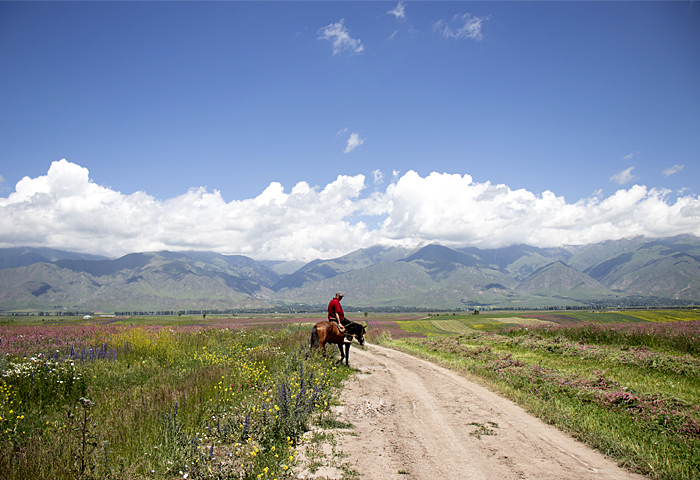 Ryohin Keikaku Co., Ltd. (Tokyo; Satoru Matsuzaki, President & Representative Director) is celebrating the 10th anniversary of its joint product development project in bringing Kyrgyz goods to market. From November 6th, 2020 (Friday) to February 11th, 2021 (Thursday), it will hold a special exhibition "Found MUJI Kyrgyzstan" at limited MUJI stores that operate Found MUJI as well as the MUJI online store, and sell wool felt items handmade by local people in Kyrgyzstan.
The 10th anniversary of "MUJI x JICA Project" - collaboration in bringing Kyrgyz goods to market
Located in Central Asia, the Kyrgyz Republic (hereinafter, Kyrgyz) is landlocked, bordered by several countries, and home to multiple ethnicities with strong Russian cultural influences. With some 40% of the country at an altitude over 3,000 meters, Kyrgyzstan is known as the Alps of Central Asia for its rich natural beauty and comfortable climate. The families living in the scattered villages near Lake Issyk-Kul, which are said to have been part of the Silk Road, have since ancient times made their living through nomadic pastoralism and the production of wool felt.
MUJI supported the One Village One Product Project (OVOP)* promoted in developing countries by the Japan International Cooperation Agency (hereinafter, JICA). In 2010, the"MUJI x JICA Project" was launched and MUJI has been collaborating with JICA to implement joint product development since then. This project aims to turn wool felt production, a local specialty, into an industry while revitalizing the local communities. To this end, the project applied the same level of quality and design as ordinary products developed by MUJI, and we supported the development of production management systems and quality management systems together with JICA.
* An initiative aiming at revitalization of the communities by local people making the best use of local original materials and techniques
This year marks the 10th anniversary of this project. The Found MUJI Kyrgyzstan exhibition introduces the wool felt animal series, which has been developed since the beginning of this project and has evolved along with the improvement of local technology, as well as wool felt cases, bags, slippers, and so on. In line with the launch of the exhibition, we will also set up a special website "Found MUJI Kyrgyzstan" at MUJI online store. What is more, we will introduce the latest information about MUJI x JICA Project on the website of MUJI Laboratory for Living. At the end of this year, IFC (International Finance Corporation), with whom MUJI has been collaborating on this project since 2015, will publish a report investigating the impact MUJI has exerted - through its product development project and producers' skill training activities - on Kyrgyzstan (as well as other developing countries) in terms of local economic and social activities.
Found MUJI Kyrgyzstan website at MUJI online store
* To be released on November 13
MUJI x JICA Project updates by MUJI Laboratory for Living
* To be updated on November 6
Outline of Found MUJI Kyrgyzstan
Representative products:
Product name
Price
(Consumption tax included)
Image
* Please note in advance that the products may change without prior notice.
* Some items are only available at MUJI stores.
Various Wool Felt Animals
1,000 yen ~
Various Wool Felt Cases
900 yen ~
Various Wool Felt Bags
2,900 yen ~
Various Wool Felt Slippers
2,900 yen ~
Wool Felt Cushion
2,900 yen
Various Wool Felt Mats / Rugs
7,900 yen ~
Various Dessert Glasses
700 yen ~
Period:
6th November (FRI), 2020 - 28th January, 2021 (THU) * Found MUJI AOYAMA, MUJI GINZA, TERRACE MALL SHONAN, MUJI online store
20th November (FRI), 2020 - 11th February, 2021 (THU) * Other stores
Stores:
SHARE STAR HAKODATE / SAPPORO PARCO / TOKYO ARIAKE (to be opened in 2020) / GINZA / SHIBUYA SEIBU / MARUI KICHIJOJI / TERRACE MALL SHONAN / NAOETSU / NAGOYA MEITETSU HYAKKA-TEN / AEON MALL KYOTO / KYOTO BAL / SHINSAIBASHI PARCO / GRAND FRONT OSAKA / KOBE BAL / HIROSHIMA PARCO / MUJI CANAL CITY HAKATA / Found MUJI AOYAMA / MUJI Online Store
* Products may change without prior notice.

For press inquiries, please send a message via Contact us portal.
PR Department, PR & ESG Division
RYOHIN KEIKAKU CO., LTD.
Tokyo, JAPAN