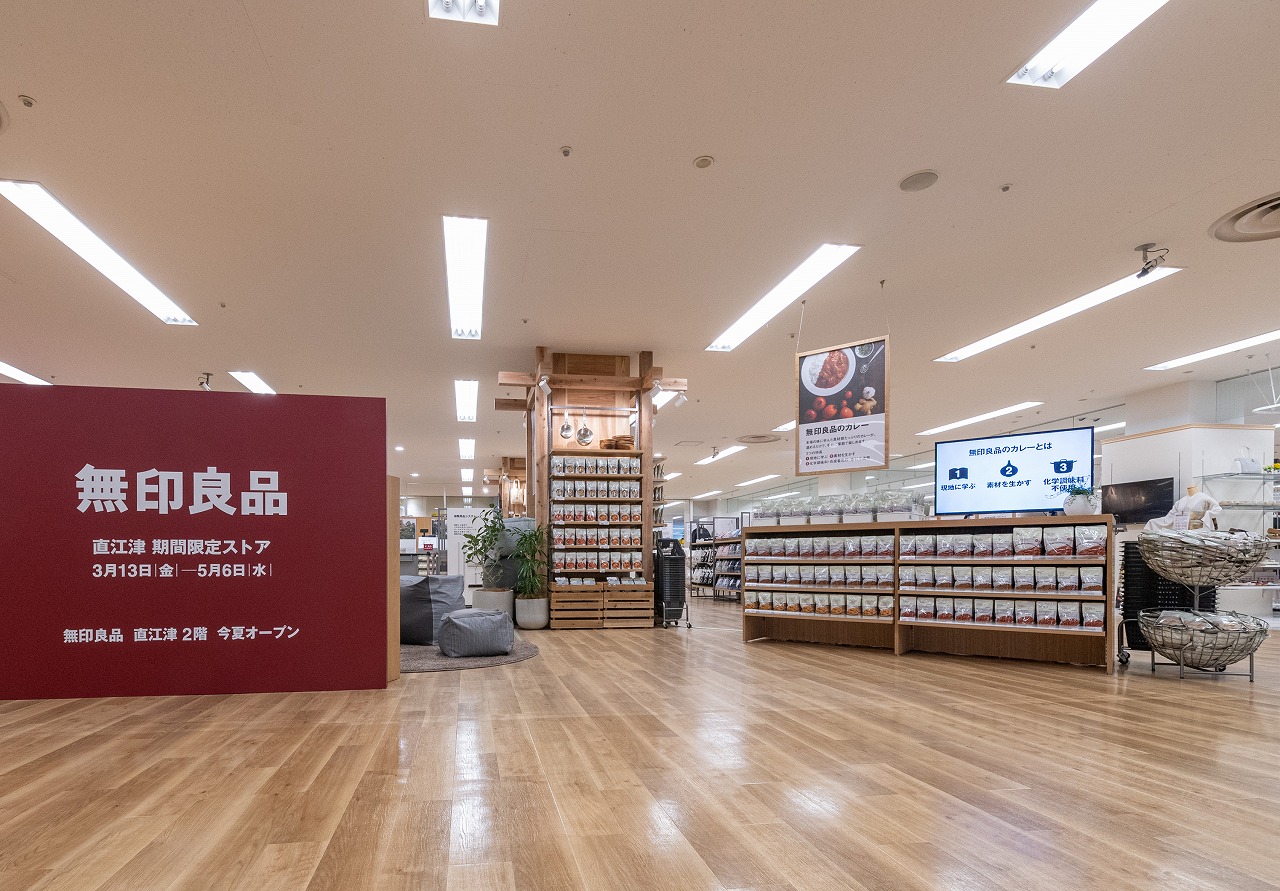 "MUJI Naoetsu" Pop-up Store Opened
On March 13th (Fri.), the "MUJI Naoetsu" pop-up store opened on the first floor of the Naoetsu Shopping Centre. This pop-up store is a compact store packed with essential MUJI products. To familiarise the locals with MUJI, approximately 500 products are available for sale, with a focus on the ever-popular retort curry, cleaning products, clothing made from natural materials, and other basic living necessities representative of MUJI. The theme of the main promotion will also change on a monthly basis, focusing on introducing foods in March, daily necessities for embarking on a new life adventure in April, and clothing using organic cotton in May.
A large number of customers visited the store as soon as it opened, indicating how they had been eagerly anticipating MUJI's arrival. "Up until now, I've been travelling to Tokyo, Nagaoka (Niigata prefecture), and Nagano to shop at MUJI, so I'm glad that now I can do my shopping locally," said one customer. Additionally, local media shared reports of "a bustling store full of smiles," showing how both the locals and staff were cheerfully enjoying the shopping experience.
Initially, the pop-up store was scheduled to open until May 6th (Wednesday), but due to its high level of popularity, the period has been extended till May 24th (Sunday).
MUJI Naoetsu, which is scheduled to open this summer, plans to provide food-based attractions for those with children to enjoy. It also attempts to convey the appeal of the Joetsu area from Naoetsu through events, workshops, information sent via MUJI passport and other efforts and to become a store that people want to visit every day.
*Information is current as of the date of issue of the individual article.