Gibier (Wild Game) Curry launched
From Thursday March 19, MUJI began selling Gibier Curry, which had been sold only at limited stores or for limited periods, as a regular menu at Café&Meal MUJI restaurants across Japan.
Despite the fact that wild boar meat and venison have long been away from the Japanese table along with the spread of livestock meat such as beef and pork that can be produced efficiently, wild game has closely related to the Japanese food culture in history because they have been eaten by people way before people started eating beef, pork and chicken.
Boars and deer inhabit in Satoyama hillsides areas. However, in recent years, there has been an excessive increase in the number of boars and deer, and their impact on agricultural products and the decline in motivation for farming have led to problems such as the expansion of abandoned cultivated land. Although the capture of wild birds and animals is promoted in order to reduce the impact on agriculture, only about 10% of the meat from captured animals are distributed as food, and most of them are incinerated or buried.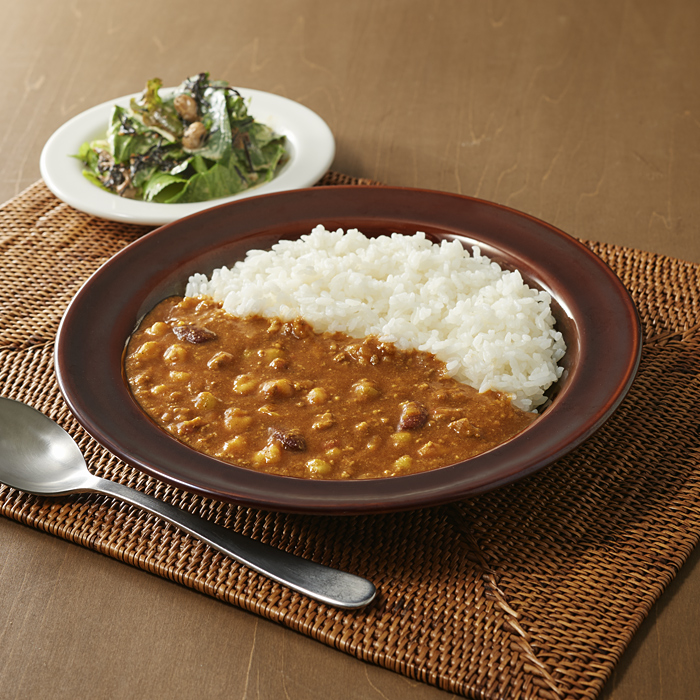 MUJI's promotion of expanded use of Gibier hopes to contribute to the conservation of agricultural land and the circulation of Satoyama hillsides areas, and to create opportunities for people to learn about the current situation in hilly and mountainous regions. The word "Gibier" refers to the meat of wild animals captured by hunting in French. Since boars and deer eat natural and delicious foods like mushrooms and acorns and grow healthily, the meat is rich in iron, nutritious, and condenses the delicious taste of nature.
While the promotion of Gibier curry utilizes unused foodstuff, it also helps to reduce greenhouse gas emissions generated in the process of the fattening of cattle, pigs, and other livestock. What is more, it is also an idea for raising the food self-sufficiency ratio.
We hope that you will try Gibier curry at Café & Meal MUJI across Japan.
(Currently, we have suspended operations or shortened operating hours at some stores due to the spread of COVID-19. For store information details, please click here)
Related Site
Gibier Curry Launched at Café&Meal MUJI
*Information is current as of the date of issue of the individual article.