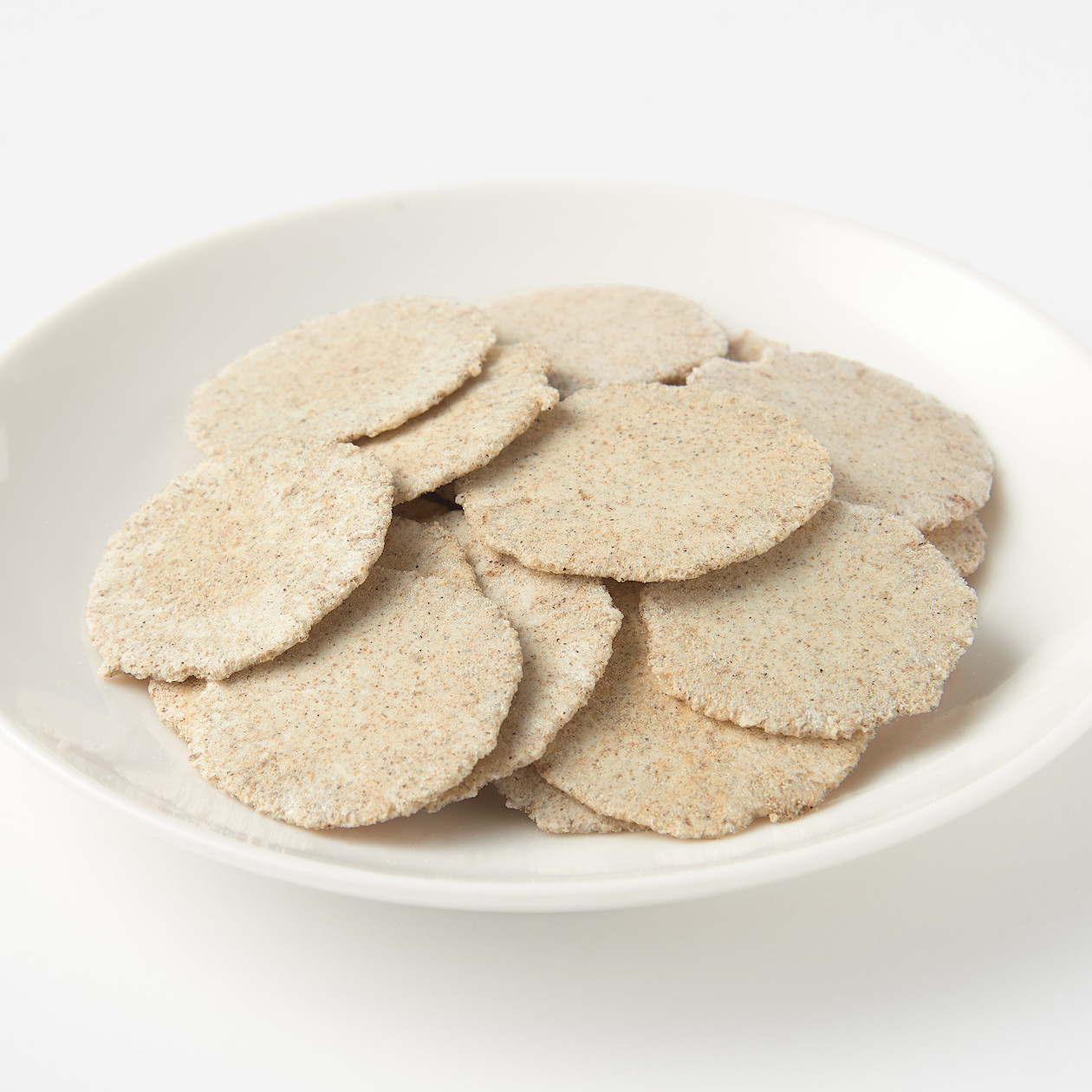 Cricket Cracker on Presale at MUJI's Online Store
The presale of Cricket Cracker at MUJI's online store※1 will be started from Wednesday, May 20.
MUJI proposes the idea of "a simple, pleasant life" in various countries and regions around the world. In addition to selling products that are needed for daily life, we are focusing on a variety of issues that society is facing today. With the concern that the rapid increase in global population will trigger future issues such as food security and environmental problems, we gathered information through our visits to Finland, a country advanced in initiatives applying insects for food, and collaborated with the of Tokushima University※2, a leader in the research of edible insects, and began our initiatives to use crickets as an ingredient for food.
Insects, when compared with livestock – our major resource of animal protein, contain more major nutrients in their bodies, thus enabling efficient intake of nutrients. In addition, the amount of greenhouse gas emissions and the amount of water and raw materials required to raise insects are extremely low, and environmental impacts are said to be reduced. The Food and Agriculture Organization (FAO) also recommends edible insects as an alternative to livestock because of the high nutritional value and low environmental impact. In particular, cricket is well received in Japan and overseas for its role as food, since it is easy to breed and can be efficiently produced. MUJI uses edible crickets produced with the know-how of Tokushima University as raw materials and manufacture products in Japan, which ensures food safety and provides a stable supply system at the same time.
MUJI's Cricket Cracker is made from a tropical species called "futahoshi cricket" reared on the basis of research conducted by Tokushima University. All of the crickets are fed in a hygienic and safe environment. By keeping temperature and moisture constant, it is possible for crickets to produce eggs throughout the year, thus ensuing the amount produced for food use. In addition, the crickets are grinded into powder form and kneaded into dough to make the cracker delicious. In order to make the most of the taste of the crickets in a simple formulation, no extra ingredients are added. You can enjoy the fragrant flavor close to shrimp.
[Product Information]
Product name: cricket cracker
Price: 190 yen including consumption tax
Standard: 55g
Date of release: Wednesday, May 20, 2020
Allergic substances: Edible cricket powders contain ingredients similar to crustaceans, such as shrimp and crabs. Please refrain from eating it if you have any allergy to shrimp or crabs.
■ RELATED LINKS
Notice of Cricket Cracker Presale at MUJI's Online Store
Development of Cricket Cracker by MUJI
※1 We planned to sell the products in limited stores and MUJI's online stores in Japan. However, due to the spread of COVID-19, we changed to a presale only at MUJI's online stores. We will inform you of the sales information at the stores from MUJI's online store, the free app MUJI passport, and MUJI's official SNS.
※2 This is a collaboration with Dr. Takahito Watanabe, an assistant professor at Graduate School, Tokushima University. Alongside his research, he founded a venture company from Tokushima University and is focusing on the promotion of edible insects.
*Information is current as of the date of issue of the individual article.