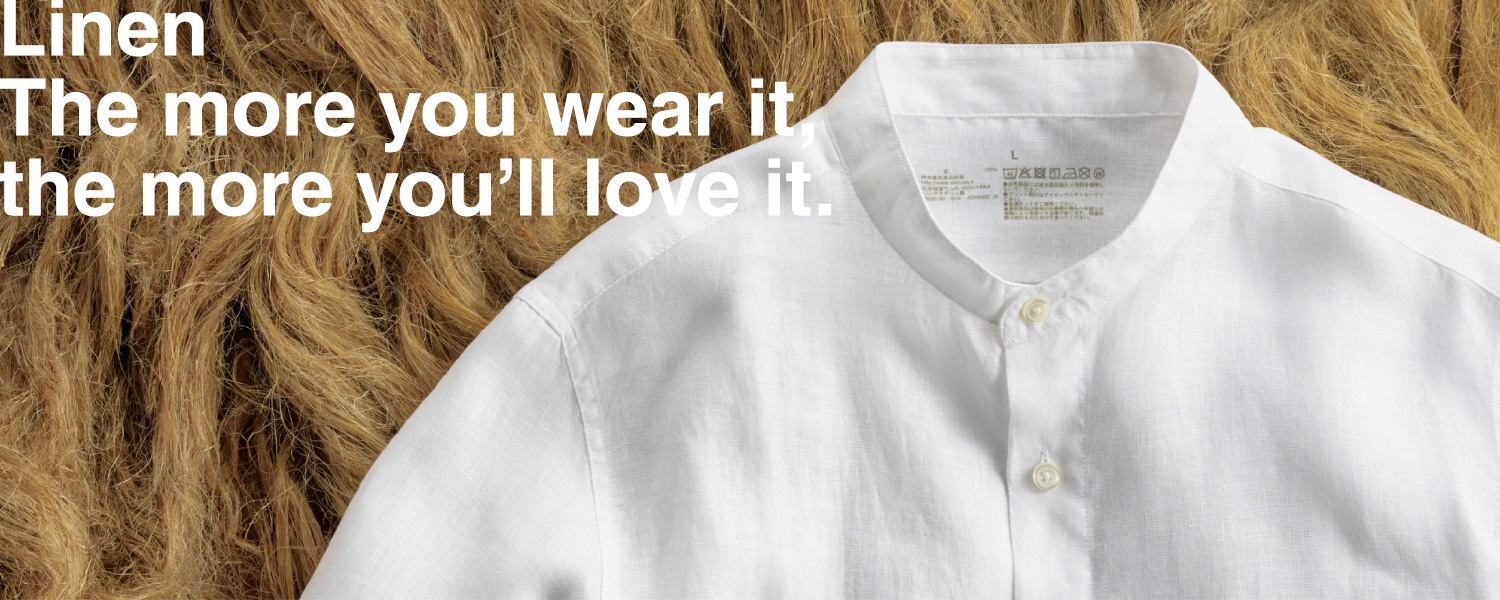 Product Focus No.2 Linen
Linen is said to be one of the most durable natural fibers available. Its fibers become stronger when becoming wet, and it gets a softer and deeper texture the more one washes and use it, allowing one to fell the process of its maturation. It gives the skin a fresh and comfortable feeling, and is one of the representative materials for MUJI's spring/summer products. In the second issue of Product Focus, we talked with the person in charge from Apparel Division about the charm of linen.
■The "linen" of MUJI
 MUJI has been using linen as a material for its products ever since its establishment. The first product sold was the "linen 100% washed shirt" launched in 1984, which used the coarsely woven "ramie" with a strong texture. Since then, we have gradually expanded our lineup of linen items year by year, such as T-shirts and jackets. At that time, linen is usually perceived as a high-end material, but we provided linen products at prices and designs that were closer to everyday needs.
 In the search of better materials, we continued to use linen from various production areas. From the latter half of the 1990s to 2000, we adopted linen produced in Mainland China, and around 2005 we applied French linen for our linen products, which we are still using today. In the area of Normandy, France, linen was carefully grown in a vast natural environment with a large variance in the heat of the day and the cold of the night and the perfect level of humidity. Clothes made of such material are easy-to-wear, comfortable and compatible with all kinds of design. As a result, MUJI has expanded its product lineup such as dresses, blouses, skirts and trousers, and linen products have become a representative category for MUJI's spring/summer season.
■The reason behind materials and its evolution
Linen, being a durable and absorbent material that dries quickly, stands up to multiple washes and gets softer with use, is a material extremely suitable for summer. In addition, since there are nodes in the material itself, the natural heterogeneity is reflected in the material's expression. To ensure that store staff understand the features of this material and communicate it properly to customers, our headquarters and stores would work together to share product knowledge.
 The main products of the linen series are shirts and trousers. Specifications such as silhouettes and designs are changing according with time. This season, "Stand Collar Shirt" – shirts with no collar – are popular with both women and men. As for trousers, every year we received customers' requests asking for a more relaxing style, so we developed linen trousers without buttons on the waist, or those adopting strings and rubber on the waist to meet customers' needs. In addition, we also developed sleepers made of linen, and they are well received by our customers. What is more, the "khurta" series are very popular. We incorporate the materials with what we learned from the hot climate, making a form that matches the current era, thus leading to proposals for a more comfortable way of living.
■Care for the environment and producers
 Since linen is an annual plant, it has a low environmental impact. However, in order to better care for the environment and producers, from spring/summer 2007, MUJI has started to use organic linen in some of the shirts, blouses and home wear for women. Members from our product development team actually visit the site and cooperate with business partners. Although it is still a minor initiative, we would like to expand it little by little.
 In addition to clothing, MUJI also applies linen as a material for its household items such as bedding fabrics and slippers. We intend to further strengthen the cooperation between apparel and household products, and evolve linen into material that could better serve the daily lives of our customers.
■ Relevant Site
MUJI Online Store "Linen. The more you wear it, the more you'll love it".

*Information is current as of the date of issue of the individual article.