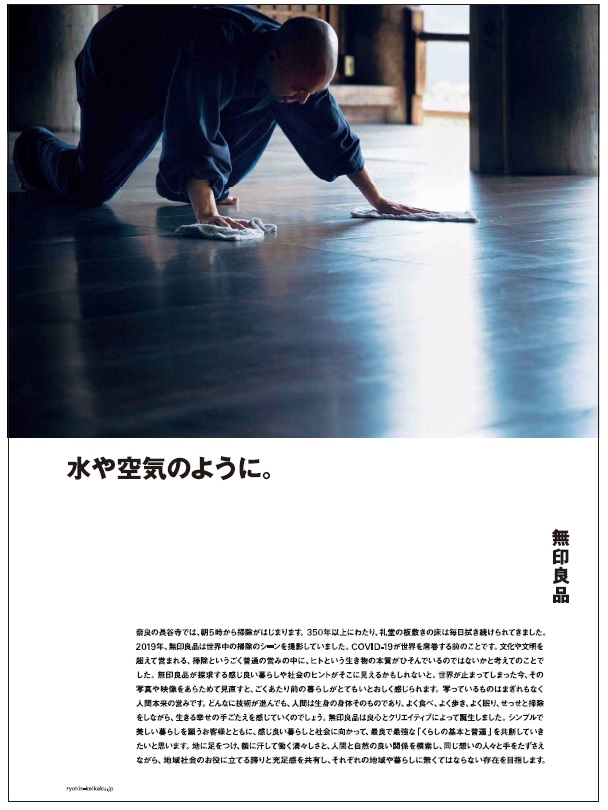 MUJI Received the Excellence Award for the 69th Nikkei Advertising Awards
The Nikkei Advertising Awards, hosted by The Nikkei, was launched in 1952 as one of Japan's leading advertising awards, and has recognized numerous outstanding advertising works. Awards are given by media, including the Nikkei Advertising Award, the Nikkei Business Daily Advertising Award, the Nikkei MJ Advertising Award, the Nikkei Veritas Advertising Award, the Nikkei Science Advertising Award, and the Nikkei Electronic Advertising Award. These awards are selected by each Judging Committee on the basis of originality, novelty, timing and ingenuity of advertising contents.
This year marks the 69th anniversary of the award, and 62 awards were presented, including the Grand Prize, from 10,385 works being screened. Among them, the Ryohin Keikaku corporate advertisement "Like water and air" was awarded the Excellence Award in the Distribution and Service Category.
■Related Link: 69th Nikkei Advertising Awards (In Japanese)
(https://adweb.nikkei.co.jp/paper/award/html/award69_ad.html)