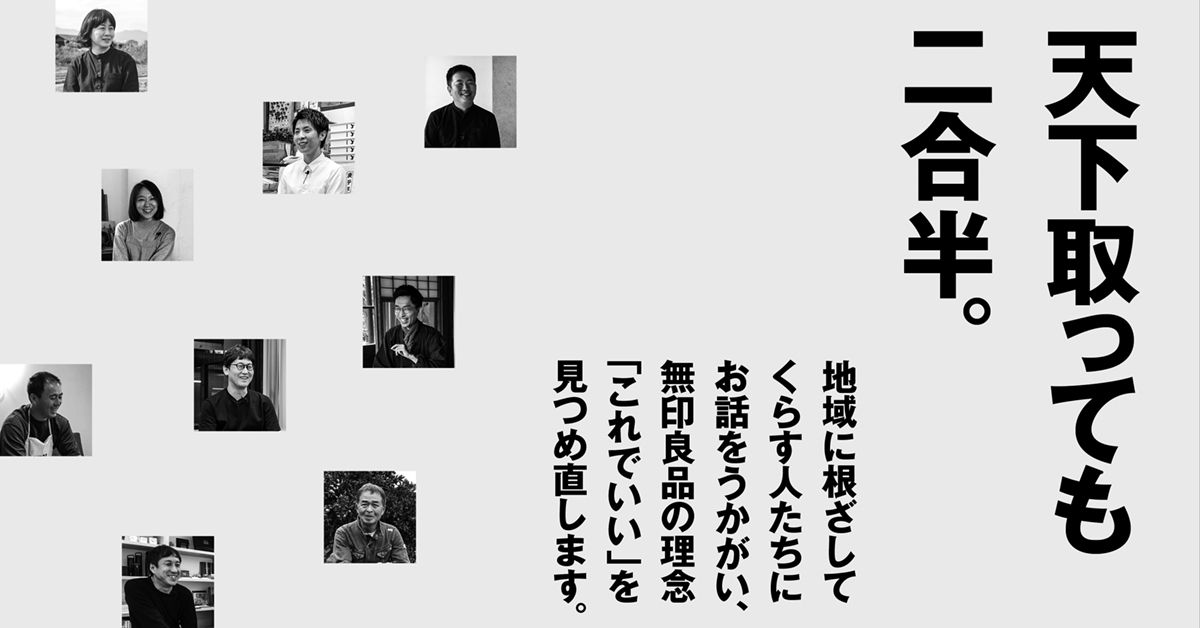 Commemorating the 40th Anniversary of MUJI: Website "Even those who rule the world can eat no more than needed" Launched
On Friday, December 11th, we launched a special website entitled "Even those who rule the world can eat no more than needed" to commemorate the 40th anniversary of MUJI.
MUJI aims to promote localization activities at all stores, and to become a platform where local residents can interact with each other. Utilizing our stores across Japan as network, we are deepening our connections with people in different areas, and we have been holding events such as talk shows and workshops by inviting those who play active roles in the local community. In this project, the event venue has changed from in-store to online, and employees of Ryohin Keikaku serve as interviewers to interview local people and listen to their ideas and opinions. Videos of these interviews are disclosed on this website.
The title of the website - "Even those who rule the world can eat no more than needed" means, "no matter how great a person is, he/she cannot eat more than two and a half go (Japanese measurement, 1 go=0.18 liter) of rice, so don't be greedy." We think that this saying has a similar meaning to MUJI's belief of "this will do" rather than "this is what I want," which proposes a rational satisfaction. In this project, we invited many people who have been living and working in the local community as our guests – with whom MUJI employees has encountered in various parts of the country, and talk about the common themes of their life experience, how they got to know about MUJI, how they are connected with MUJI, what they expect from MUJI in ten years, their wish for MUJI in 10 years from now, etc. As the first step, we have released 10 videos on the website, and we will add more new videos from now on and distribute information through MUJI passport application or our official SNS account.
Through the eyes of these guests, we formed a picture of what MUJI's "this will do" should be like, and we are thinking about the concise and comfortable life of today. The clues that we need in order to take root in every region of the world may well be based on knowing a variety of "this will do."
■ Special Website "Even those who rule the world can eat no more than needed" (in Japanese)
(https://www.muji.com/jp/feature/tenka-nigohan/)