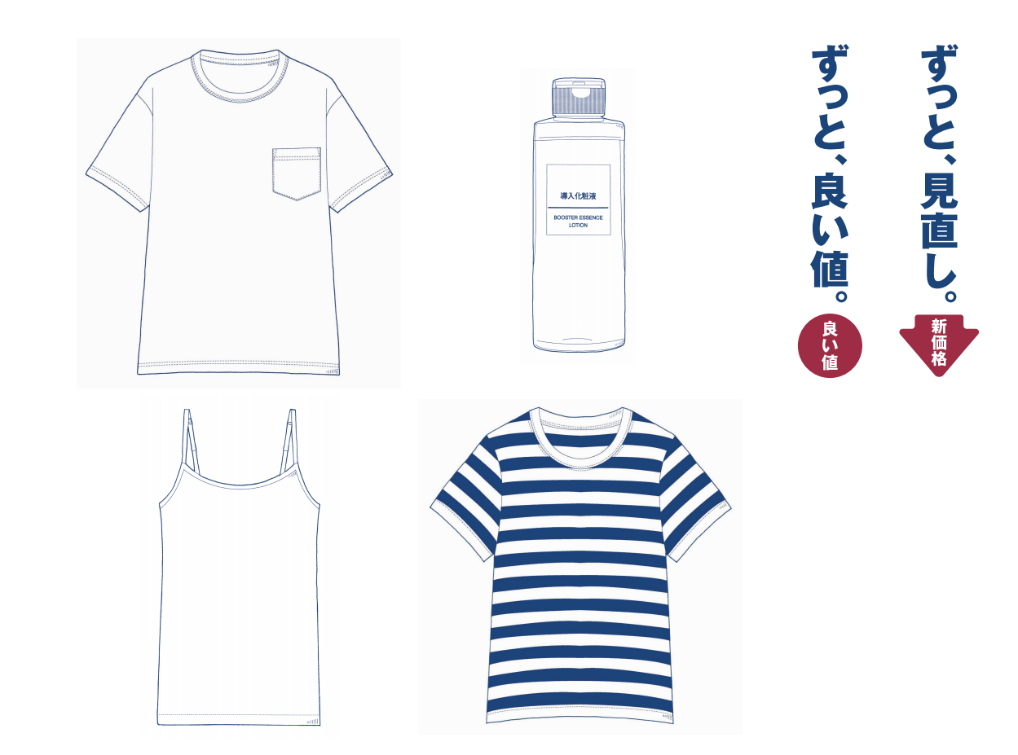 Corporate
Products/Services
"Keep Reviewing, Always a Good Price" for Clothing and Household Goods
 Under the theme of "Keep Reviewing, Always a Good Price," MUJI is conducting the second phase of price review for its2021 Spring/Summer season. We have revised the prices of linen shirts, short-sleeved T-shirts and cotton innerwear, as well as household items such as bed sheets, pillowcases and booster essence lotion in order to support consumers in their daily lives.
 MUJI makes use of the original functions of natural materials such as cotton and linen in its manufacturing. Following the 2020 AW, we are conducting the price review focusing on core items such as clothing and underwear made from natural materials. We offer highly sustainable daily wear and daily necessities developed based on our product development approach of "Selection of materials," "Streamlining of processes," and "Simplification of packaging," at prices that are always easy to buy with the concept of "Lower Priced for a Reason". We have visited the production areas and factories of the raw materials directly, and have shared our knowledge with our production partners to achieve prices that consumers can afford.
 In addition, we have been displaying the total price including consumption tax since it became mandatory in 1994 so that customers can enjoy shopping without complicated calculation. We will continue to refine the "quality, price, and meaning" of our products to provide our customers with healthy and beautiful everyday food, clothing, and housing.
Keep Reviewing. |We have reviewed the prices of clothing and household goods. (in Japanese)
https://www.muji.com/jp/ja/feature/campaign/585296
Price revisions for clothing and household goods: "Keep Reviewing, Always a Good Price". Notice of Implementation News Release (in Japanese)
https://ryohin-keikaku.jp/news/2021_0408.html