Top Executive Face-to-Face Talk
Catching up on the last 30 years, and exchanging opinions about traditions and monozukuri (craftsmanship).
Guest:Kikuo Morimoto/Representative of Institute for Khmer Traditional Textiles (IKTT)
MUJI fully supports the activities of the Institute for Khmer Traditional Textiles (IKTT), which is committed to reviving the time-honored skills of Cambodia, and we are working together on a number of joint projects for developing products. Mr. Kikuo Morimoto, the Representative of the IKTT, and MUJI President Masaaki Kanai talked together about the relationship among nature, humans, and mono (articles, tools, and utensils used in daily life), and monozukuri (craftsmanship).
Encounter with Yellow Raw Silk
Kanai:

It is almost 30 years since you moved from your hometown, Kyoto to Thailand and now you are based in Cambodia.

Morimoto:

Yes, it is 30 years. In those days, near the Thai border, there was a refugee camp set up by Cambodians, and in the camp, there was a textile school. I had heard from a refugee worker in Kyoto that the school was looking for volunteers, and so it was my destiny to be involved as a coordinator with the textile school of the refugee camp. Of course, at first, I was thinking of staying for only about one or two years, but one day you look up and find 30 years have passed by.

Kanai:

Since the time you were in Kyoto, I imagine you must have had an interest in volunteer activities and a strong desire to do something. What's more, it is also amazing that you were to research textiles in the refugee camp.

Morimoto:

When I arrived, not only Cambodians but also people from Laos and other regions were actually working and making use of their own skills to make a better life in the refugee camp. Actually, in those days, even though it was called a refugee camp, some of them did not allow any foreigners to enter, so it was up to me to take the textiles made by the refugees and sell them outside the camp; in this way I was doing something that's just like fair trade as it's called nowadays.

Kanai:

Does that mean you sold the textiles and gave the money to the people living in the refugee camp?

Morimoto:

That's right. People who were living in the refugee camps were not allowed to sell goods freely, because some camps were strictly controlled by the United Nations, and such activities were not permitted.

Kanai:

After your work in the refugee camps, what other kinds of things have you done?

Morimoto:

People in refugee camps are supplied with food and water by the UN; but in reality I soon saw the Thai villagers living around the refugee camp, were actually living an even harder life.

Kanai:

I see. So you were meeting village people who were barely self-sufficient, but were receiving no supplies or support from the UN.

Morimoto:

One day I visited the village and saw their traditional textiles, and for the first time I came across yellow raw silk, and I am still involved today. I used to be a kimono maker in Kyoto, and I had always thought silk was white, but here were these very beautiful yellow cocoons, which villagers handspun into yarn and then wove cloth. Everything started from this encounter, but life for the people making this cloth was pretty hard. I started thinking if it would be possible to sell their textiles to help increase their income. Since then, over the next 10 years I was doing this kind of thing with Thai people.

Kanai:

So is this silkworm, something like a wild silkworm?

Morimoto:

No, it is classified as a domesticated silkworm. Nowadays, white raw silk is commonly available, but fundamentally, the color white does not usually exist in nature, as you know albinos are very rare, so my theory is that the yellow silkworm is the original ancestor, and gradually through selective breeding the color became white, which of course is much easier to dye.

Kanai:

So you are saying that these yellow cocoons are the origin of silk.

Morimoto:

That's right. It is a pure breed. After I went to Cambodia, I conducted a survey of mulberry trees. It is said that the Silk Road started from China, but I made several discoveries, which pointed to the Silk Road probably starting in Cambodia, and not China. I requested a Japanese university to carry out DNA tests on mulberry trees to establish their place of origin, and sure enough, half of the Cambodian mulberry trees had the same DNA as those found in China, and the remaining half had DNA that does not exist in China. In other words, in China there are mulberry trees that were introduced from Cambodia. Silkworms eat only mulberry leaves; therefore, it is logical to assume that Cambodia, which is the place of origin of mulberry trees, is also the place of origin of silkworms. This would suggest the possibility that the Silk Road might have had a prehistory, and I think that the secrets of silkworm farming and silk production were passed from the Cambodian forests to China, and then spread throughout the world.

Kanai:

To sum up, your investigation into mulberry trees to study silk, drew you into your life's great passion, and directly to where you are today.

Morimoto:

Yes, that's right. For 30 years I've been involved and now I have more opportunities to let people know about the beauty and quality of Cambodian silk, but in the early days there was a strong bias against handspun products. In the specialist world, it was thought handmade yarn spun by villagers was not of good quality; basically what they meant was this sort of handmade yarn is not suitable for mechanized mass production, and therefore, the quality is not good. It was an era with a different kind of values, but I found the warm yellow cocoons I saw in the village and the yarn pulled from them very attractive, so I really could not understand why they were regarded as such a poor raw material. In this situation, I asked a professor specializing in material engineering in Shinshu University to conduct several tests, including measuring the strength of the yarn. As a result, it was found that yellow yarn actually has some advantages compared to white yarn; for example, reflectance and shine. The cross section of yellow yarn is triangular and was found to be better than white yarn in its ability to reflect light; having more facets it creates more reflections. Up to that time, yellow yarn was regarded as not good quality, but as I suspected, it has this very good point. Since I have come to know all about it, the more hooked I am on this silk type.

Kanai:

Even if the university tests had been negative, because of the sort of man you are, Mr. Morimoto, I have a feeling that you would probably be doing the same thing as you are today. However, I guess you must have had a hard time then. Even though you were passionate about yellow raw silk, and thought it was wonderful, the general public at that time did not share your enthusiasm. Priority was given to how easy it was to process a material, and it was an era when white yarn, as was often seen in Japan as well, really ruled supreme. Well, you know how the world was at the beginning of the 80s, when the market was still brisk and the Japanese economy was rising.
Over 30 years
Morimoto:

In the second half of the 80s, I was teaching village people to dye fabric with plant dyes, and we then made and sold the finished items, but unfortunately there was not that much mainstream interest in naturally-dyed products; therefore, I bought the finished fabric myself, and sold it in my Bangkok shop. Basically as you know too well, it doesn't matter how much skill, time and effort is put into an item; no sales means no new orders.

Kanai:

What kind of people bought those first products?

Morimoto:

What is interesting is that they were local Thai people. We didn't push the naturally dyed side at all; it was simply see and touch, to be more precise, they liked the look and the feel and appreciated the quality. The color of natural plant dyes was obviously different from chemical-dye products that were usually sold in the shops in town. Many customers found the color variations very attractive, and gradually we built up a fan base of dedicated regulars, mainly from women running their own businesses in the Bangkok area; it was that sort of person who chose our silk. What soon became apparent was they were really wearing our silk just as everyday clothing.

Kanai:

In the late 80s, our company was also looking around Thailand and also India for monozukuri, but I was unable to really imagine them supplying our market.

Morimoto:

Actually around that time MUJI approached me, but we weren't set up to produce in large enough quantities. It was more a case of 10 or 20 pieces at the very most; so, unfortunately this did not lead to business. Because of this situation, later I was given an opportunity to do monozukuri together with you, and I am now very pleased. In the past, when we were thinking of pairing up with villagers to start producing larger numbers of items, I noticed in the MUJI stores indigo-dyed products were being introduced. Seeing such indigo products was a great inspiration for my ideas concerning monozukuri.

Kanai:

Really, it would seem that we were connected at that point as well.

Morimoto:

Yes, we were connected. Women entrepreneurs came to buy and then resell the village products in their own shops. I thought that it would be better if villagers handled every business aspect from production to end sale. After that, we limited ourselves to only direct sales in Thailand, and we still do this today. On each finished product, we clearly labeled who made and designed the item. This is much the same model used by farmers who grow and sell their own vegetables directly to the public. It's great when customers say how delicious your vegetables are, or how much they like your fabric. The customer's opinion is given directly to the producer, which encourages them and they are rightly proud of their work. I give great importance to such direct contact with the customer; this is the base of any business. That is the most important thing, isn't it?

Kanai:

For the last 30 years MUJI and you have been working independently and slowly towards each other, it is as if you have been traveling upstream and we have been traveling downstream and finally we were fated to meet at this part of the river. For all that time MUJI has been thinking deeply about the essence of mono. In 2006, we launched MUJI Global Sourcing (MGS) as a procurement subsidiary and more than ever we are also expanding procurement activities overseas, so this kind of encounter and opportunity will increase in the future.

Morimoto:

This time, because we can do monozukuri together, I reviewed our raw materials once again. To produce textiles, we thought it was alright to buy finished dye products from the market and readymade yarns, but we have changed this practice, and now once again we manufacture our own yarn and dyes, because in the present world, clothing items are treated as disposable, often thrown away after just one year of use. In the kimono world, when wearing a garment, the customer knew which production center and which weaver wove the fabric; in other words, they had an "appreciation" for the story of the garment and material. They took great care of the kimono and an item could be handed down to children or grandchildren. In this way they were living with and appreciating mono and had a deeper awareness of the importance of mono and the background of where any items were created. I believe this kind of awareness helps enrich our lives.

Kanai:

You are absolutely correct. To make one piece of cloth requires an immense amount of effort and logistics. Human beings, on the one side, have developed very practical and efficient mass production systems; I admit such abilities and the quest for finding a better way are wonderful, but human beings do tend to forget how hard it is to make a quality product. Particularly, in more recent times, people very rarely ever see everyday articles being made. In the old days, in a neighborhood there would have been households and small workshops making a variety of useful daily articles, and they would have seen them being made and sold in the course of their daily lives. However, nowadays most people are basically end consumers. For example, in the fish section of a supermarket fish are often sold prepared in slices, and some children have no idea about fish and think the slices swim in the sea. In the same way as in this example, we are living in an environment where we cannot actually appreciate or be aware of the difficulty and skill needed to make an article. I believe now it is very important to be aware of this point. In that sense, we introduce your activities through your products (mono) and would like to help you even if only in a small way.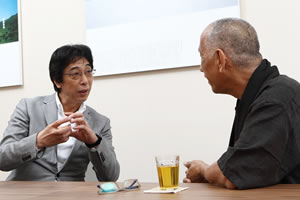 Handing down and changing traditions
Morimoto:

My work is based mainly in Asia, and in my travels to Indonesia I have seen the famous and popular batik cloth, which from every point of view has very deeply influenced kimono design. The other day, when I saw a leaflet for the exhibition, "Japanese Crossing Borders - Asia as Dreamed by Craftspeople 1910s - 1945," held at the National Museum of Modern Art, Tokyo (exhibition period: April 24 to July 16, 2012), I had the idea that perhaps from around the Edo period Japanese artisans were able to travel to Southeast Asia. In one region of Asia people were mingling and swapping ideas. I think the past eras are now repeating in the present, and we are just in the middle of such a current by chance.

Kanai:

In any group of humans there will always be a small percentage of people, a minority who will have quite different ideas and behave differently to the majority. Even in a homogeneous group of humans, there our many different sorts of behavior, and unconsciously it seems that each individual naturally finds the role best suited to their talents. Viewed in this light, there must have been people even in the Edo period who wanted to cross the sea that lay before them and were wondering what lies beyond the horizon. So, one of the reasons why it is said that the Japanese "splashed pattern" technique has its roots in Southeast Asia is, I think, that people of the time crossed the seas, exchanged ideas and techniques, and established their connections.

Morimoto:

In Okinawa there is a type of textile known as Abaca-cloth, and it is thought it originally came from Indonesia; however, you won't find Abaca-cloth in Indonesia today. Only very coarse textiles are left, and when Indonesian weavers visit Okinawa, they are very surprised. Even if the roots are Indonesian, the cloth making technique has been refined to a very high level in Okinawa and is acknowledged as an outstanding example of craftsmanship. I am fascinated by the way, people, mono, and regions all overlap and how a tradition can be developed in another place.

Kanai:

Yes, that's really interesting; it's a bit like a positive chemical reaction between two different cultures. Recently, in Japan people have started using a term, "diversity." If we stick to a Japanese unified sense of value and way of thinking, it will be difficult to make an impression in our global society. It is important to respect a diverse sense of value including acknowledging the differences between men and women, or nationalities, and thus creating new innovations. I feel that what we call tradition is actually an accumulation of such chemical reactions.

Morimoto:

I often say this; tradition should not be protected for its own sake. I mean, time moves forward; therefore, at the point you try to preserve it, you will run backward. We must have an attitude that allows us to create a new tradition in keeping with an era. In my opinion, that is why 30 years ago, MUJI started creating a new tradition.

Kanai:

In the same way as maintaining tradition, if we try to protect MUJI, actually we stop at that point, we become frozen in time. We must keep renewing and in one sense, we must keep changing. If we think about protecting MUJI too much, before we know where we are, we start thinking that we must not break with our tradition. As a matter of course, the idea to protect MUJI and keep the best of our tradition alive is important, but if such an idea is taken to an extreme and restricts our elbowroom, then we will find our tradition is more a burden than an inspiration. MUJI always keeps thinking what is a "good product" right now and what MUJI should do about it. And yet, the answer today will be different from the answer in three year's time, and the answer also differs depending on the individual, but I believe it is important to keep exploring, and to change along with the era, and keep moving forward. For example, people keep thinking how they can make themselves richer, and how they can spend a happy life. In the days after the Second World War, Japan copied America and believed that a life surrounded by many possessions is a form of happiness, and worked extremely hard to create such a society, but once people are materially fulfilled, they come to realize that such a vision is not the only form of happiness. Throughout history, people have sought happiness through constant trial and error. Therefore, the standards by which to measure happiness will change during an era. From this point of view, although I am now working in the megacity of Tokyo, the answers to the question of what we feel happy about, and what we are not satisfied with, could very well be the same as that of the people in the village where you are living. Obviously people are not satisfied with everything in life, but they are living while feeling happy. In other words, it is essential to mutually find a common standard to measure happiness.

Morimoto:

To achieve that, if we share encounters, people, and places, we could mutually understand more.

Kanai:

As a part of our study trip, our members stayed in your village, and although it was only for a short period, they were able to have an invaluable experience. In the village, parents and children live together and children will naturally help in their parent's work; such a scene can hardly be found in Japan today. In fact, it is said many Japanese children don't know what job their father is doing. All they know is father travels by train to his company every day, and comes home late at night, but they know very little about what kind of job their father is doing in his company. This is the sort of world so many children are living in; because of this, the members who participated in the trip felt life in the village as fresh, warm, and real, and they envied this way of family living. They returned to Japan feeling really good about what they had seen and experienced.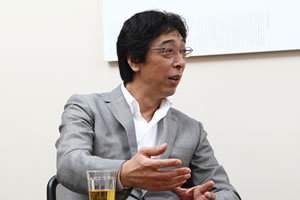 Warmth of Handwork, and Appreciating Mono
Morimoto:

As one factor that can be applied to all the different fields of craft work, I think making a thing by hand is connected to the transmission of various skills which are in the muscle memory of the hands. It is not something like there is a so-called manual and simply following it. Among artisans, this transmission of skills spreads and develops further. This handing down is not limited to having a certain form of manual and accurately doing it by the book. There is an aspect of developing a skill in harmony with the era, in other words, there is an aspect of improvisation, which can also be extremely creative work. For example, complicated splashed patterns have been handed down with no need of design books or drawn patterns. It's because there is no written tradition that the artisan's creative ability is developed, and that such skills must be learnt and handed down. There are no drawn patterns, but as a memory, it will be handed down to further generations. I'm wondering if it would be good for us to once again re-evaluate the power of hand memory.

Kanai:

After all, progress is important. For example, in the present day, it is considered good practice to create a simple manual, a sort of one plus one equals two approach, and then just follow the instructions; this does result in increasing efficiency, but by no means is this approach enough, we cannot simply rely on this style of transmitting knowledge. In the Japanese apprentice system, which is commonly found among artisans or chefs, as a matter of course, masters teach nothing formally to their apprentices. While working as an assistant, the apprentice must steal knowledge or acquire skills by using their own body with the utmost effort and practice. For this reason, it is natural that the craftwork expressed through the master's body is certainly more than equal to that of his apprentice; any piece is a distillation of time, experience and skill. This sort of thing is called evolution and most artisans follow a similar method, and I feel with this kind of practice tradition is handed down.

Morimoto:

The kimono world to which I belonged is also very much grounded in the world of artisans, so apprentices are not paid a proper salary. The average worker's salary was around 30,000 yen at that time, but for apprentices it was about 5,000 yen. After finishing our apprenticeship, we had to offer free service for one year with absolutely no salary; in that age it was common practice. Apprentices had to sneak around and watch what their masters were doing from the side, and they really had to steal their skill and knowledge. Masters would give a tiny bit of advice, but basically apprentices had to learn all these skills by themselves.

Kanai:

I have heard that instead, courtesy and rules of etiquette were strictly hammered into apprentices.

Morimoto:

Now I have reached the same age as my master, I sometimes recall his work in those days, and I recognize that even now, I can't reach the same level as him. What he could do was positively god-like and I can never surpass him. Because of this early training and starting from my work in the kimono industry, I have found a different sense of value about silk, and have learnt much. Now it is my turn to teach and pass on my skills and knowledge to the younger generation.

Kanai:

Some say that as well as animals and plants, humans are also living as a part of nature, and I feel the immense power and beauty of nature. Natural disasters show us her awesome power to destroy, and yet gazing at a tranquil lake or forest can heal the soul. I think that Japanese and Asian peoples have a relatively strong sense of awe and respect for nature, but if we keep living in our present way, we will tend to forget it. Of course, it is necessary that many everyday objects are produced by machines, and they are then available for everybody, but even so the unrivalled skill of human hands making an article is a marvelous thing. At one extreme, we have huge manual construction projects such as the pyramids of Giza, and at the other a delicate hand carved ring. Several times I have seen objects made by human hands that no fantastic precision machine can mimic; I truly thought they were amazing. MUJI has given form to an abundance of materials in our industrialized society, and on the other hand, we are promoting our Found MUJI initiative, the concept of which is that people are aware of the natural warmth found in a handmade item, fully feel such warmth, and enjoy both using it and giving the extra care and attention that it may require. The key point is to encourage the awareness in our daily life of cherishing and using mono with great care.

Morimoto:

Talking of the wonder of hands, I have often thought that simple tools are positioned as an intimate extension of the hands, and machines being more complicated are positioned at some distance from the hand, but now, I am thinking it might be possible to treat machines in the same way as a much loved tool. I was inspired the other day by some people I met in Nagoya, they are involved in woolen textiles and I told them that even with natural dye, if we take the time to slowly dye an item, the color will not be lost over time; the reason for color loss is too fast dying using a machine. They totally agreed with this, and said if they force their machines to work in a rush, the machines just don't like it, but if they use machines with respect and from the heart, then the machines respond and weave good textiles. When I heard this, I had my eyes opened. So, in the project with MUJI, although we are operating a cutting-edge dye machine manufactured in Shanghai, I consider we are doing traditional handwork. In the past, we produced only 5 or 10 m, but we are now able to realize a scale of 100 or 1,000 m using this extraordinary machine; in this case, I think working with this machine with all my heart, just like working with simpler tools, is my vocation. In other words, I think the fundamental aspect of successfully using materials, tools, and making articles is found in the heart after all. It is important for us to share the essence of the heart found in nature, and the feelings held by humans.

Kanai:

As an example of a postindustrial society, an information society naturally comes to mind, but you are talking about repositioning machines as tools. That's amazing. I really would like you to do it.

Morimoto:

I think that it is possible to once again find a place for the heart in our current mature industrialized society, which will go hand-in-hand with an appreciation of monozukuri, and customers who have bought products made by using machines with such heart will feel and respond from the heart, too. Recently, using the waste from MUJI's wooden tables we dyed towels and achieved the most beautiful color. From something that has been thrown away as garbage, articles are dyed in wonderful colors and shades. Wood waste used in a dyeing process has decomposed thermally, and rather than taking the usual three months to return to the soil, it only takes one month just like leaf mold. And so it becomes useful again for growing the next tree, and keeps recycling. Presently it is said that half of the products on earth are thrown away as waste, and from this example if only a small portion of them can be reused even a little, nothing could be more wonderful. For example, when planting a new tea bush, the old plant is uprooted, and can be used as a plant dye to create many beautiful shades. Moreover, with roses as well, the fresh flowers are shipped, but the waste stems again give the most exquisite colors. It all means that people just don't notice these opportunities, in our world so many valuable treasures lie sleeping in the waste we so carelessly throw away.

Kanai:

About 10 years ago, MUJI spent a couple of years creating a gray color. We worked on a gradation of five shades or so, and some were strongly reddish or bluish; it was very hard. Deciding color is a difficult task, and it cannot be simply decided by the majority. However, as shown this time, in this case of dyeing towels using furniture wood waste, when we saw the dyed color we all honestly thought there was no need to have any more discussions on the color. In the more conventional case, an exact color is decided first, that is why the reason for producing this new kind of gray must first be established. So far, we have been discussing colors from a feeling's perspective, but for the color of the towel dyed with wood waste destined for disposal, we did not need to have our usual discussions.

Morimoto:

Speaking of kimono, for example, for a married woman's formal kimono with a colored ground, (decorated with five crests and a pattern around the skirt), about 38 colors are used to finish one kimono. With bright and deep colors it is easier to create a feeling of depth, but pale and faint gray, pale blue, or beige type colors are far more difficult. However, each artisan has their own "secret technique." The color used for the secret technique, is an undercoat and is not seen on the visible surface, but it is this hidden coloring technique which makes it possible to create the depth of color. This is the sort of practice that people call artisan skill. To produce a certain pale shade of color even with modern dyes, it can take three days and three nights to get it just right; but for that sort of color, sometimes it is easier to produce by simply simmering leaves and using a natural dye. This is something very interesting. Red created using chemical dye is just a plain red, a mono-color, but red created by natural dye is red in which blue, yellow, green, and black are condensed. This is the depth found and embraced by a natural dye, and also indicates the profound mysteries of nature.

Kanai:

This time again, I was very surprised at how quickly you have been able to show us a sample of dyed towel, and with such a good color. With this sort of color gradation, for example, it will make a really good sofa cover, and in the same way, if we make cushion covers with that tone, the products will have a good finish and feel. MUJI has always chosen colors that are not particularly visually outstanding; they are rather gentle and provide the background of daily life; these quiet colors are promoted across our whole product range, because in our daily life, if objects are over assertive, space will become confused. So, as much as possible we have placed stress on colors not being assertive, and to this end have kept producing products colored with natural dyes, which are more suitable as the background of daily life. If, however, some people may feel unsatisfied with such simplicity, or want to introduce more color, I would like to suggest hand worked embroidery or other natural colors. For MUJI products, I want to leave enough room to allow customers to freely choose, and figure out good ways to achieve their ideas.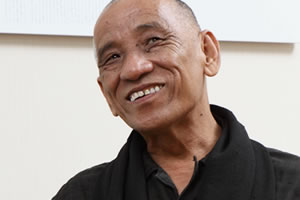 After the Talk
Kanai:

By a happy chance, we have started working with Mr. Morimoto and his staff, and we all are very pleased. We are looking forward to exchange visits with the local staff; it can be mutually really inspiring if they experience a different world, Japan, and actually see a display of their products in the MUJI stores. Finally, some people put into practice a way of living that stresses the importance of human being's warmth; we have set this concept as an ideal, and Mr. Morimoto is following this way; however, in such a world with its focus on convenience it is really difficult to live while maintaining this ideal, because even if many people want to do so, they must find a balance. Under such circumstances, if we can support the activities of Mr. Morimoto and his staff even just a little, I would be very pleased.

Morimoto:

Mr. Tatsutomi (President of MUJI Global Sourcing) is my main contact with MUJI and by chance both of us are from Kyoto, so we are on the same wavelength and we have a great working relationship: but sometimes I do wonder if we did not have so much in common, what would it be like now. I guess you could say that I was blessed with such good fortune. I would like to keep on meeting such good people and appreciating such encounters with the people I meet in the course of my work. What I actually feel when I see MUJI staff engaged in pursuing monozukuri is that they are truly doing their job while keeping in mind the fundamentals of monozukuri. I am very happy with their approach, and I would like to continue making really excellent goods in cooperation with them. I am looking forward to working together on many other projects with you, and as we say in Japanese yoroshiku onegai itashimasu, or please allow us to be of service to each other. Thank you.
*Job title, etc. is a thing of the time talk